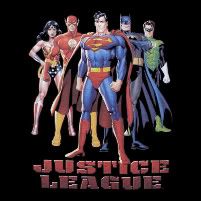 I never thought I would hear something positive about the idea of a Justice League movie, but it looks like DC comics fans may finally get the movie for which they have been waiting.
In an interview, Jeff Robinov — president of the Warner Bros. motion picture empire — told The L.A Times about plans for upcoming DC movies after the Harry Potter series finishes.
This is what The L.A Times revealed from their interview with him:
His most immediate hurdle is filling the void that will be left this summer when the multibillion-dollar "Harry Potter" series shepherded by Horn ends. Robinov is betting on DC Comics characters to take center stage starting in June with the $200-million-plus production "Green Lantern."
He's then aiming to release new "Batman" and "Superman" films in 2012 and "Justice League," a teaming of DC's top heroes, in 2013.
Robinov also spoke with Hero Complex and not only did he reveal lans for the JLA movie, but confirmed rhat Flash and Wonder Woman are being written as well.
To summarize what he said, these are the plans Warner Bros. has for its DC movies:
• A new script for the Justice League movie is in the works.

• Even though the David E. Kelley's "Wonder Woman" pilot that is aiming to come to NBC this fall, a Wonder Woman MOVIE script is also in the works and like "Superman Returns" did with "Smallville," the movie won't conflict with the series if the pilot is a success.

• A script for The Flash also is in the works — which would seem to say that the script that Marc Guggenheim, Michael Green and Greg Berlanti handed in to Warner Bros. didn't make it. But that doesn't necessarily mean that these guys are off the project – they could very well be the guys that are still on board for the movie and doing a new script instead.

• Then there is Christopher Nolan's Batman series. We all know that "The Dark Knight Rises" is the last movie that Nolan will do about the Caped Crusader and Bale has stated that this is his final movie as well. Robinov mentioned that a reinvention for Batman is a possibility, which could mean that a reboot might happen. But he mentions that a conversation will happen with Nolan and his wife (and producing partner) Emma Thomas, where they will discuss what the next step will be after the "The Dark Knight Rises." One thing Robinov noted was that the Batman franchise will continue after Nolan's departure and will continue as a centerpiece.
My feelings towards all of this are mixed. Two things I like are that we now have confirmation that scripts for "The Flash" and "Wonder Woman" movies are in the works and, of course, that a script is finally being written for the Justice League movie. I admit that I had lost all hope for a JLA movie a long time ago. Also, I'm glad that a Wonder Woman movie is still happening because I'm a bit skeptical about the Wonder Woman TV pilot. Taking into account the WW suit, the cast and some pilot reviews I have read, I believe this pilot has a 50/50 shot of succeeding.
Moving on to the things I don't like so much, I can't imagine that they would start over with Batman. I hope they will do whatever it takes to get Christian Bale back as Batman and also to make his Batman fit in a JLA movie. Also, they shouldn't let Nolan leave that easily. There must be a way for him to be involved with the movie – perhaps in the godfather role that he has for the Superman Reboot. But all of that will be worked out in coming years. There's a chance we will hear things from Comic-Con this summer and there will probably be other announcements before and after Comic-Con so stay tuned.
We will keep you guys up-to-date with more news about the Justice League movie, which for now is planned for a 2013 release. Discuss and leave your comments to the right. Are you excited that Warner Bros is finally starting to work on the Justice League as well as The Flash and Wonder Woman?
. . .
Follow Andy Behbakht on Twitter at http://twitter.com/Haoh93.
And don't forget to "Like" It's Just Movies on Facebook at
http://www.facebook.com/itsjustmovies.