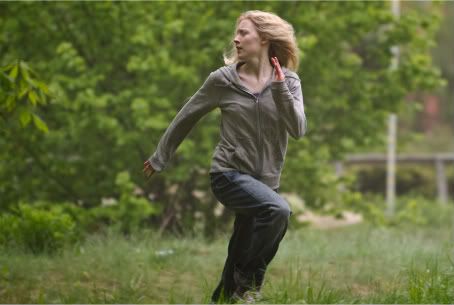 Around this time last year, Chloe Moretz was dropping F-bombs and attacking criminals as pint-sized vigilante Hit Girl in "Kick-Ass." Now "Atonement" and "The Lovely Bones" star Saoirse Ronan is the underage, gun-toting assassin in "Hanna," the latest film from director Joe Wright.
Sixteen-year-old Hanna (Ronan) has been trained by her ex-CIA agent father (Eric Bana) to the be the ultimate killing machine. After being groomed as an assassin in a remote area of Finland, Hanna's father sends her on a mission across Europe, where she must fend for herself and steer clear of an intelligence operative (Cate Blanchett) determined to track her down.
The trailer and clips that have been released from the film don't reveal much about the plot beyond the fact that Hanna is a teen assassin, but that just makes me all the more curious about the story. Director Joe Wright is best known for his period pieces "Pride and Prejudice" and "Atonement," so I'm not really sure what kind of tone to expect from him here.
If nothing else, the movie looks like it will have its fair share of intense action sequences. Especially in the clip called "Where Am I," the small, lithe Ronan appears more than equipped to hold her own against opponents twice her size.
"Hanna" hits theaters April 8. Check out seven clips from the movie below.
. . .
Follow Alexa Milan on Twitter at http://twitter.com/alexamilan.
And don't forget to "Like" It's Just Movies on Facebook at
http://www.facebook.com/itsjustmovies.