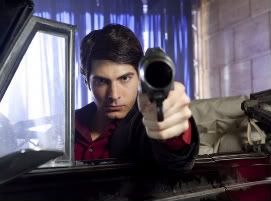 The under-promoted "Dylan Dog: Dead of Night" opened yesterday in just 875 theaters in the United States, in comparison to 3,644 theaters for "Fast Five." Nevertheless, I have no doubt it will be well received by those who see it. "Dylan Dog" is an internationally-known, beloved comic-book character with a huge fan-base.
If you haven't read our review of the movie (from way back in September 2009), check it out HERE. Either way, check out the film's opening sequence, which we have embedded below. It is very, interesting. And it impressed me how they can so simply set up a premise with just so few words.
Hearing Dylan Dog (Brandon Routh) speaking the monologue, which I have transcribed for you below, really makes me want to rush to the theater and watch the movie.
New Orleans can be a tough town to die in. But when you die and come back, you call me, Dylan Dog — or, at least you did. You see, I use to protect all of them, all those creatures of the night. Those sharp-toothed monsters you thought were only in the movies. Why? Because they're real. Yeah, I know what you're thinking; I used to think the same thing. But go ahead, take a closer look at the bum begging for change, take a look at your neighbor, your best friend. Hell, maybe even your girlfriend. The undead are out there, hiding in plain sight. And in my day, I was the line between you and them. I was the peace, the cork in the bottle, the line in the sand. But then everything changed, and I discovered there's more than one way to die. Your heart can go on ticking, but sometimes, that's just for show.
The Platinum Films-produced supernatural thriller stars Brandon Routh, Sam Huntington, Taye Diggs, Anita Briem, Peter Stormare and Kurt Angle.
. . .
Follow Josue Sanchez on Twitter at http://twitter.com/Josue_can.
And don't forget to "Like" It's Just Movies on Facebook at
http://www.facebook.com/itsjustmovies.