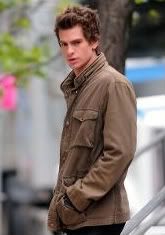 It seems like it has been a while since we had any news about "The Amazing Spider-Man" but some images featuring Andrew Garfield as Peter Parker and Emma Stone as Gwen Stacy filming a scene have hit the Internet.
The photos (via Just Jared), show Peter Parker in his glasses, but in others he is not wearing them anymore. So what could be going on in this scene?
I have said this before and I will say it again — I really like what I see in Andrew Garfield as Spider-Man. He definitely has the Peter Parker look down cold. No disrespect to Tobey Maguire, but Garfield has definitely won me over in terms of the Peter Parker — and also the Spidey — look.
And let's not forget the beautiful Emma Stone. I like Stone and I think she's well cast here.
Directed by Marc Webb, "The Amazing Spider-Man" swings into theaters on July 3, 2012. Let us know what you think of these new images by hitting with your comments to the right.
And for more images from the set, head over to Just Jared.
. . .
Follow Andy Behbakht on Twitter at http://twitter.com/Haoh93.
And don't forget to "Like" It's Just Movies on Facebook at
http://www.facebook.com/itsjustmovies.