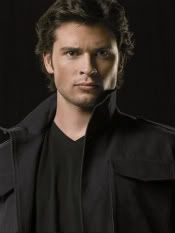 "Smallville" ended and now I'm a tad depressed. Ten years of my life was spent watching and enjoying the amazing comic-book series and on Friday the 13th the saga of one Clark Kent drew to an uplifting conclusion. What could possibly replace such an amazing successful show? As of now the answer is, nothing. Sure other attempts will be made, but looking at NBC's take on Wonder Woman, it may be awhile before anything will be at the same level of "Smallville."
Tom Welling impressed many with his portrayal of Kal-el/Clark Kent. Not only did he capture the Kryptonian's humility, he also conveyed Clark's inner struggle with himself as he moved closer to his true destiny. Of course, Welling had plenty of time to perfect the legendary superhero — 10 years in fact. As his skills matured as an actor, so did Clark Kent's fortitude along his progression to become Superman. So the question is, what will Tom Welling do next?
Last week, What's Playing reported Marvel Studios was interested in Welling. Although it's unclear as to what facet, he's definitely on the radar. I'm all for it. Heck, if he can make DC Comic fans happy, why not share his talent with the competition?
It seems the handsome New York born actor has a penchant for fantasy, too. Before Chris Hemsworth landed the huntsman role in "Snow White and The Huntsman," Welling tested for the part. Thank goodness he didn't get it. Being that there are two Snow White films in productions, with "The Brothers Grimm: Snow White" version released six months prior, it may not be successful.
The most interesting rumor has to be the Allan Quatermain reboot. As of last March, Sam Worthington was attached to star and produce the Indiana Jones-like space adventure. Now it appears that Worthington is no longer linked to the project and co-producer Alfred Gough, who was an executive producer on Smallville from 2001-08, is looking toward Welling. Depending on the script and director, this could be the perfect endeavor to introduce Welling to a broader audience and make him more of an international star.
If those ventures don't work out, I'd love to see Tom Welling as a villain. He made a great Bizarro and appeared to have a great time with the role. Besides, playing a baddie would be a great departure from the hero we all know and love, Superman. However, I don't think he's edgy enough for a Tarantino flick. Perhaps he can prove me wrong.
What are your thoughts on the subject? What should Tom Welling's next move be?
. . .
Follow Sherice Antoinette on Twitter at http://twitter.com/ShericesPieces.
And don't forget to "Like" It's Just Movies on Facebook at
http://www.facebook.com/itsjustmovies.