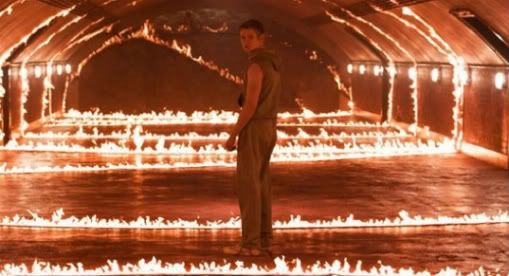 "X-Men: First Class" shows the epic beginning of the X-Men saga, the tale of secret global events that changed history. As mutants began to emerge from mankind and before Professor Xavier was enemies with Magneto, they were just two young men, the best of friends discovering their powers and how they fit into the world. With characters we have seen in the original X-Men trilogy and many new to the screen, 20th Century Fox is releasing more personal and revealing character trailers that show us more about each mutant than we have learned from the previous TV spots and videos.
This one showcases a new character to the film franchise: Havok (aka Alex Summers), played by Lucas Till. Anyone who is familiar with the X-Men comics or cartoons knows Alex is the younger brother of Scott (aka Cyclops). Once again, we are seeing the continuity broken between the original trilogy, but this is a reboot with a reconstructed story and team so we shouldn't be overly critical. I'm not sure how they will work Scott out of this story, but for now, let's focus on Havok.
Alex Summers (aka Havok) has the ability to absorb ambient cosmic energy into the cells of his body, transform it in an unknown manner, and release it as waves of energy, usually emanating out in all directions. Havok must concentrate immensely to focus it the power in one general direction. Like Cyclops' optic blasts, but not always as destructive, they can be channeled to have different intensities.
In this spot, we see Alex, secluded, imprisoned, alone and in need of friends and guidance. With obvious fears about his powers hurting those around him, it's a good thing when Charles (James McAvoy) shows up and believes in him. There is a sense of accomplishment, humor and family in this short clip — which I find to be a lot to cram into a little over a minute.
The design of the suit and the device he wears on his chest is interesting. I'm not sure if I remember a gold Frisbee from any of the previous incarnations of this character. Till is cast perfectly and looks the part of the young, athletic teenager who has some pain in his past and is ready to make a new future.
Also starring Michael Fassbender, January Jones, Kevin Bacon, Jennifer Lawrence, Rose Byrne, Nicolas Hoult and Zoё Kravitz, "X-Men: First Class" opens everywhere June 3.
What are your thoughts about the actor playing Havok? Will he be a successful addition to the story? Leave us a comment and let us know who you are most looking forward to seeing in the upcoming "X-Men: First Class" and if you could bring any new character into the movie franchise who would it be?
. . .
Follow Adam Poynter on Twitter at http://twitter.com/CCWGGuy.
And don't forget to "Like" It's Just Movies on Facebook at
http://www.facebook.com/itsjustmovies.