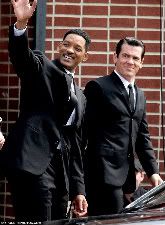 If you were in the Bronx Monday afternoon you may have seen two Men in Black.
Will Smith and Josh Brolin (Agent J and Agent K respectively) were filming a few scenes yesterday for the upcoming MIB sequel. In this installment, Agent J must travel back in time to the '60s to prevent the evil Boris (Jermaine Clement) from killing a young Agent K. If Boris were to succeed, a chain of events would lead to the end of the world.
Sounds simple enough, right? Apparently not. Production was halted last November due to issues Will Smith had with the script. The original draft, written by Etan Cohen ("Tropic Thunder"), was approved by director Barry Sonnenfeld ("MIB & MIB II") and producer Walter Parkes. Will Smith, took issue with the screenplay, however, and writers Jeff Nathanson ("Catch Me If You Can") and David Koepp ("Angels & Demons") were brought in to fix things up.
In addition to script problems, director Sonnenfeld and producer Parkes are butting heads creatively. But this is nothing new. The two clashed terribly during the filming of both "MIB" and "MIB II." It's amazing the two men continue to work together. Must be one of those love/hate relationships.
Hopefully, "MIB III" will still turn out okay come next May. Photos posted today from the Daily Mail have me interested, although slightly.
Head over to The Daily Mail to view more photos from the filming of "Men in Black III" and sound off to the right with your comments.
"Men in Black III" — which also stars Alice Eve, Emma Thompson, Nicole Scherzinger, Rip Torn and Johnny Knoxville — is slated for a May 25, 2012, release.
. . .
Follow Sherice Antoinette on Twitter at http://twitter.com/ShericesPieces.
And don't forget to "Like" It's Just Movies on Facebook at
http://www.facebook.com/itsjustmovies.