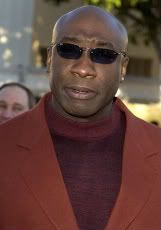 Green Lantern news just keeps coming as the premiere gets closer and closer — today, it's about the Green Lantern Corps.
The Hollywood Reporter is reporting that Michael Clarke Duncan is in negotiations for the voice of Kilowog, one of the most famous members of the Green Lantern Corps.
Personally, Duncan is one of my favorite actors and for the character of Kilowog, I can't imagine anyone other than Duncan voicing his character. I looked at the official image of Kilowog, then I listened to Duncan doing an interview while looking at the image — and I am 100 percent sure he's the man for this job. And Duncan isn't unfamiliar with superhero movies. In 2003, he portrayed one of the top Marvel villains, Wilson Fisk (aka Kingpin), in the movie "Daredevil."
Hopefully, we will hear an official announcement from Warner Bros. soon regarding whether he'll voice Kilowog (pictured below with Ryan Reynolds as Green Lantern).
Also — for those of you who may have missed it — almost a month ago, THR reported that Geoffrey Rush ("King's Speech") would voice another Corps member, Tomar-Re.
If you want to hear Rush as Tomar-Re, I suggest you watch the four-minute preview and pay attention at the 2:27 mark. I'm impressed and I think he was a good choice for Tomar-Re (pictured below).
"Green Lantern" hits theaters on June 17. In the meantime, discuss and leave your comments to the right. What do you think about Michael Clarke Duncan as Kilowog?
. . .
Follow Andy Behbakht on Twitter at http://twitter.com/Haoh93.
And don't forget to "Like" It's Just Movies on Facebook at
http://www.facebook.com/itsjustmovies.