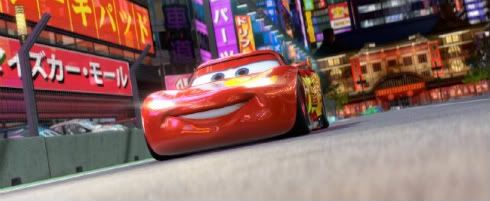 I'm a huge Pixar fan, and every summer I anticipate the release of the latest film from the successful animation studio as much as the season's biggest live-action blockbusters, if not more so. But this summer I've got some homework to do before heading to the theater, as "Cars" is the only Pixar movie I haven't seen.
In "Cars 2," Lightning McQueen (Owen Wilson) and his pal Mater (Larry the Cable Guy) travel abroad for the World Grand Prix, a new race to determine the fastest car on the globe. But winning the title won't be easy for Lightening. After meeting suave British spies Finn McMissile (Michael Caine) and Holley Shiftwell (Emily Mortimer), Lightening and Mater become embroiled in international espionage.
I have no idea how "Cars 2" will compare to the original having not seen the first, but based on the trailer and this new clip from the film, it seems to be lighter fare than the past few Pixar releases. "Toy Story 3" and "Up" had their share of laughs, but they also had plenty of tear-jerking moments. "Cars 2" looks to be more of an action comedy.
"Cars 2" races to theaters June 24. Check out a clip from the film below, in which Finn McMissile escapes from a gang of villainous cars that were chasing him on top of an oil rig.
What do you think? Are you excited for "Cars 2?" How will the sequel stack up against the original? What other Pixar movies deserve the sequel treatment? Sound off in the comments section.
. . .
Follow Alexa Milan on Twitter at http://twitter.com/alexamilan.
And don't forget to "Like" It's Just Movies on Facebook at
http://www.facebook.com/itsjustmovies.