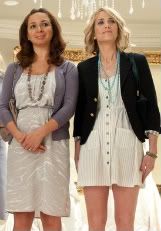 Too often, women in movies seem to be put into stereotypical roles, either as eye-candy or as the dramatic and teary-eyed scene fillers. Well, get ready, because "Bridesmaids" takes those molds and flips them over and gives them a swift kick.
Annie (Kristen Wiig) is a beautiful woman in her thirties whose dreams of owning her own bakery didn't work out. She recently lost her boyfriend, is currently working at a minimum wage job and can't even pay her rent. She has a sexual relationship with Ted (Jon Hamm) who just uses her and will never want more than just sex. She is fine with ignoring the troubles in her life until her life-long best friend Lillian (Maya Rudolph) gets engaged and asks Annie to be her maid of honor. That's when Annie starts to unravel and realize how desperate she is to have more in her life.
A diverse group of women make up the rest of the wedding party, each a unique character with their own flaws and comedic strengths. There is Rita (Wendy McLendon-Covey), a longtime married mother who talks to her kids like she is a prison guard and they are the inmates. Then there's Becca (Ellie Kemper), an introverted newlywed who tries to be meek and proper, and Helen (Rose Byrne), Lillian's new friend who secretly wants to replace Annie as the maid of honor. Lastly, there is the large and loveable Megan (Melissa McCarthy), the butch sister of the groom who isn't afraid to say what she thinks or wants. Megan is the standout character of the film — she is funny, endearing and has some of the best scenes and lines in the movie.
As the film progresses, we are introduced to Officer Rhodes (Chris O'Dowd), a policeman who befriends Annie as she is starting her descent into craziness through the film. He finds her funny and amusing and they start a casual relationship, but as Annie sinks deeper into her own pit of despair he is hurt and she must try to fix herself and attitude before trying to win him back.
The movie was written, produced by and stars Kristen Wiig, and her time on "Saturday Night Live" serves her well here. "Bridesmaids" revolves around her character, but she in no way has she kept all the best lines and scenes for herself. In fact, the character of Annie is one of the most flawed and at times I wasn't completely on her side. But, overall, the characters she has created are real, relatable and fun to watch. Not only has Wiig created a totally female-driven comedy (I think there were maybe three men in the movie that had speaking roles), but also has taken a movie about a wedding and turned it into a journey into friendship, growing-up, relationships and growing apart.
For those looking for this to be the female version of "The Hangover," you will find some of the same awkward humor and situational comedy, but there is so much more heart to this movie than just the adrenaline fueled weekend the boys had in Las Vegas.
Directed by Paul Feig, this movie did have me laughing out loud, some of the potty humor is old hat but it still works for some reason. And many of the smaller mumbled comments and crazy reactions and looks put this comedy over the top on my list of favorite female comedies. "Bridesmaids" has taken a genre reserved for men and redefined it in a way that will have a lasting impression on Hollywood and who it has making and starring in comedies from now on.
This film is not meant for everyone — as there is very harsh language, as well as sexual talk and scenarios — but hardcore fans of comedy will be pleasantly surprised at the freshness of the dialogue and the consistency of the laughs. One of the small problems I had with the film is that many scenes from the trailer do not appear in the film, some of the subject matter is discussed elsewhere but many of the parts that had you laughing the hardest while watching the trailer have been cut from the movie. This is just a small pet peeve of mine, but the movie doesn't lack memorable content because of this.
"Bridesmaids" is in theaters now.
. . .
Follow Adam Poynter on Twitter at http://twitter.com/CCWGGuy.
And don't forget to "Like" It's Just Movies on Facebook at
http://www.facebook.com/itsjustmovies.