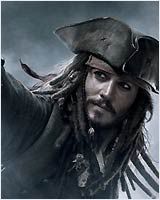 Mermaids, curses, treasures and pirates, oh my! That's what this new ad for the fourth installment of the "Pirates of The Caribbean" is made of.
Johnny Depp is back as Captain Jack Sparrow in "Pirates of the Caribbean: On Stranger Tides" coming to a shore near you on May 20. This time, Black Beard's daughter Angelica (Penelope Cruz) will accompany him as they search for the Fountain of Youth.
I've been a fan of the "Pirates of the Caribbean" since the first one came out in 2003, and have truly enjoyed Depp's take on the lackadaisical but good-natured pirate. However, I confess that part of the draw for me outside of the amazing action sequences was the love story of Will and Elizabeth, and neither Keira Knightley nor Orlando Bloom will be reprising their roles (as far as we know).
That fact made me wonder what would be the point of doing yet another "Pirates" movie, but now that I have watched it, this commercial has shown me the fun for Captain Sparrow has only just begun.
Geoffrey Rush is back as Barbossa and Ian McShane will be playing Black Beard himself. Johnny Depp is in top form as our favorite charming rogue, and Cruz seems more then up to the challenge of being the new female lead.
The "Pirates of The Caribbean" franchise seems to be reinventing itself with its latest version and if this trailer is anything to go by, I'll happily sail aboard for the ride. Will you?
. . .
Follow Jessica Morales on Twitter at https://twitter.com/athena606.