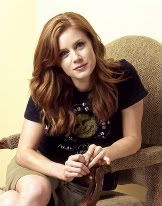 More than a few people this weekend have asked me how "Sucker Punch" will affect Zack Snyder's upcoming Superman movie. Well, this is the first way: It was announced today that Amy Adams will play Lois Lane.
"Sucker Punch" is doing poorly with both critics and movie-goers, leading people to wonder what that means for his Superman movie. If you are Snyder and Warner Bros., you obviously want to try to remove the correlation between the two movies and move the focus to the next one. This announcement does that to any extent as Amy Adams is a splashy name and the casting of Lois Lane is always big news.
Of the choice, Snyder told the Los Angeles Times' Hero Complex:
"There was a big, giant search for Lois," Snyder said. "For us it was a big thing and obviously a really important role. We did a lot of auditioning but we had this meeting with Amy Adams and after that I just felt she was perfect for it … It goes back to what I've said about Superman and making him really understandable for today. What's important to us is making him relevant and real and making him empathetic to today's audience so that we understand the decisions he makes. That applies to Lois as well. She has to be in the same universe as him [in tone and substance]."
Personally, I love the choice. She is a sexy, brassy (when she needs to be) and very talented actress who excels in every role she's given. I have little doubt she can be great as Lois Lane.
However, I'm not really that big a fan of the choice of Henry Cavill as Superman, and I wonder if someone the caliber of Adams will just blow him off the screen. There are people who are big fans of Cavill, but in the work I've seen him do, I haven't been impressed.
At this stage, I feel like Snder's Superman movie is shaping up to be a mixed bag. I'm confident in Adams as Lois Lane and Kevin Costner as Pa Kent; I'm unsure of Diane Lane as Ma Kent (too young, too sexy); and I have limited confidence in Henry Cavill and Snyder.
Anyway, how do you feel about this? Is Adams OK with you? Are you confident in Snyder? Sound off to the right.
Check out the full press release from Warner Bros. and Legendary Pictures below:
Warner Bros. Pictures and Legendary Pictures announced today that Amy Adams will star in the coveted role of Lois Lane in the new Zack Snyder-directed feature film.

Snyder remarked, "Second only to Superman himself, the question of who will play Lois Lane is arguably what fans have been most curious about. So we are excited to announce the casting of Amy Adams, one of the most versatile and respected actresses in films today. Amy has the talent to capture all of the qualities we love about Lois: smart, tough, funny, warm, ambitious and, of course, beautiful."

Amy Adams will star opposite Henry Cavill, who plays the new Clark Kent/Superman in the film. The main cast also includes Diane Lane and Kevin Costner, as Martha and Jonathan Kent.

Amy Adams was recently honored with her third Oscar® nomination in five years, for her performance in the true-life drama "The Fighter," with Mark Wahlberg and Christian Bale. She previously earned Oscar® nominations for her work in the acclaimed films "Doubt" and "Junebug." She has also starred in such diverse hits as "Enchanted," "Julie and Julia," "Charlie Wilson's War," and "Catch Me If You Can." She will next be seen in Walter Salles' "On the Road" with Viggo Mortensen and "The Muppets."

Charles Roven, Emma Thomas, Christopher Nolan and Deborah Snyder are the producers of the film. The screenplay is being written by David S. Goyer based on a story by Goyer and Nolan. Thomas Tull and Lloyd Phillips are serving as executive producers.

The new Superman movie will be distributed worldwide by Warner Bros. Pictures, a Warner Bros. Entertainment Company.
. . .
Follow Sean Gerski on Twitter at http://twitter.com/DoubleDown44.
And don't forget to "Like" It's Just Movies on Facebook at
http://www.facebook.com/itsjustmovies.