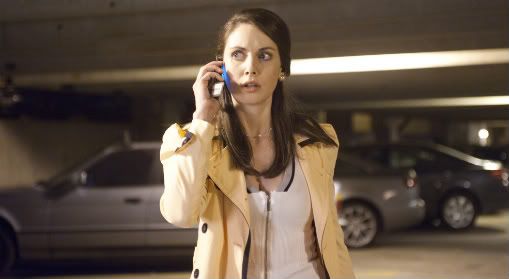 It's been 15 years since the dawn of "Scream" and after two sequels number four is just around the corner. "Scream 4" is director Wes Craven's fourth journey following Sidney Prescott (Neve Campbell) and her continued situation with the killer Ghostface. Also returning are Sheriff Dewey Riley (David Arquette) and Gale Weathers (Courteney Cox). The new victims … oh, I mean characters … to the franchise will be played by Alison Brie, Emma Roberts, Hayden Panetteire, Anthony Anderson, Adam Brody and more.
With just a little over two weeks until its release, we are seeing more clips from the movie. We have three new ones for you today.
In this first clip, "Boyfriend," we see Jill (Emma Roberts) being startled by her ex-boyfriend Trevor (Nico Tortorella) as he climbs into her room. She is smart to be cautious about him, and Sidney sees some eerie similarities in this scenario, which is not a good thing.
In the second clip, "Work Together," we see Gale (Courteney Cox) up to her same old tricks, using her smarts and sexuality to get two young men Robbie (Erik Knudsen) and Charlie (Rory Culkin) to team up with her to help catch the killer. I like the humor in this clip and it's great to see them playing on the previous generation of killer catcher and the hopeful newbies to the profession.
It is only fitting that the last clip, "Interrogation," is the most reminiscent of the original "Scream," bringing back the line that started it all "What's your favorite scary movie?" I really liked how Kirby (Hayden Panetteire) is familiar with the rules of surviving a scary movie from watching "Stabbed." Dewey's reaction and answer to her when she says will she be next cracks me up every time I see it.
So did any of these brief scenes bring back any memories of the past "Scream" films or get you excited for the new one? Sound off in the comments and let me know your thoughts.
Rated R, "Scream 4" will slash its way back into theaters April 15.
. . .
Follow Adam Poynter on Twitter at http://twitter.com/CCWGGuy.
And don't forget to "Like" It's Just Movies on Facebook at
http://www.facebook.com/itsjustmovies.