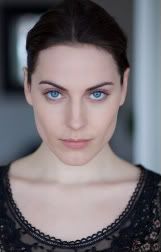 It looks like Michael Shannon's General Zod has found his Faora, as Antje Traue has been cast in the role.
The last time Faora was in any Superman media was on "Smallville," where Erica Durance played a Lois Lane who had been possessed by Faora in Season 8. She was also featured in Season 9, played by Sharon Taylor. Also, Faora was in "Superman" and "Superman II," but under the name Ursa, where she was portrayed by Sarah Douglas.
So what can we say about Traue? Well first of all, from looking of pictures of her, I think the 5-foot-6-inch actress certainly has the looks of a Faora, but I have no knowledge on her acting ability. I will have to catch a movie of hers to see how she is.
As comic book fans know very well, there are several versions of Faora in the Superman mythology. However, Variety has speculated that this version is the one that Traue will play:
That said, it's more likely that Traue will be playing the version of Faora that debuted in Action Comics #779 as a Pokolistanian aide of General Zod. That character was an orphan metahuman with the ability to disrupt molecular bonds, which allowed her to create a mutagenic virus that served as the linchpin of Zod's plan.
With this latest news, here is the cast so far for Zack Snyder's "Man of Steel":
Henry Cavill – Clark Kent/Kal-El/Superman

Amy Adams – Lois Lane

Kevin Costner – Jonathan Kent

Diane Lane – Martha Kent

Michael Shannon – General Zod

Antje Traue – Faora
So I guess that leaves Perry White, Jimmy Olsen, Lara, Jor-el … and possibly Lex Luthor (something tells me that he will be in the movie one way or another).
"Man of Steel" is scheduled to hit theatres next December. Let us know in the meantime what you think of the casting of Antje Traue as Faora by leaving your comments to the right.
. . .
Follow Andy Behbakht on Twitter at http://twitter.com/Haoh93.
And don't forget to "Like" It's Just Movies on Facebook at
http://www.facebook.com/itsjustmovies.