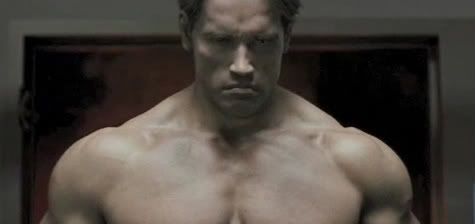 As you read this, there is a battle going on over "The Terminator." Not between futuristic robots or cyborgs, but by huge production companies like Universal, Sony and Lionsgate.
There is a sudden renewed interest for "The Terminator" franchise, especially now that Arnold Schwarzenegger has expressed interest in the series. Heck, it's more than interest, he's "onboard" for a return to his most famous role, Deadline reports.

Since his term as governor concluded, it has been no secret he is returning to acting. And, apparently, he has been reading scripts and brainstorming on what where to start. But, besides the animated "Governator," we now know where his heart is.
Though we don't know at this time what involvement he will have with the movie, it does set up a great deal of questions about his return. Will he play a human or a cyborg? Will they rejuvenate him with CGI? Will he be the lead in the movie? Will it be "Terminator 5," or is this one of the popular re-boot treatments some movies are getting?
We do know Justin Lin ("Fast Five") is attached to direct the the movie, but other than that, no screenwriters or even production company has been announced.
What do you think? Is this good news, great news? Or are you on the wall about it?
. . .
Follow Josue Sanchez on Twitter at http://twitter.com/Josue_can.
And don't forget to "Like" It's Just Movies on Facebook at
http://www.facebook.com/itsjustmovies.