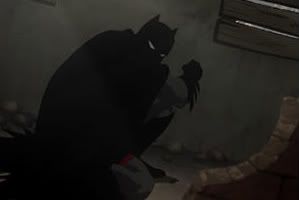 Are you getting ready for Comic-Con? Well, here is another treat for you: "Batman: Year One" will make its premiere at the popular convention (which is set to take place July 21 to 24).
If you have been following the amazing line-up of animated movies by Warner Premiere, DC Entertainment and Warner Bros. Animation in recent years, you might have already known this one was in the works. And now we have heard that Bryan Cranston, Ben McKenzie, Eliza Dushku and Katee Sackhoff have all been brought in to lend their amazing voiced to the new film.
Personally, I have been nothing but extremely pleased with all the recent animated movies from Warner Premiere, such as "Batman: Under The Red Hood," and "Superman/Batman: Apocalypse."
And with "Batman: Year One" — an adaptation of the Frank Miller/David Mazzucchelli comic book classic — they are bringing us one of the most famous and successful series from the comics to life. In this adventure, we go back to the early years of Bruce Wayne starting out his vigilante persona. And this story is as much about Lieutenant (not Commissioner) James Gordon as it is about Bruce and Batman.
Bryan Cranston is playing Gordon, Ben McKenzie will voice Bruce Wayne/Batman, Eliza Dushku will perform as the sexy Catwoman. Oh, and we can't forget the amazing Sackhoff, who will be playing Det. Sarah Essen, Gordon's love interest in the movie.
So what do you think? Are you a fan of the original comic-series? Can they pull this off successfully?
Look out for more news about "Batman: Year One" here at It's Just Movies, and wait for its release on blu-ray and DVD on Sept. 27.
. . .
Follow Josue Sanchez on Twitter at http://twitter.com/Josue_can.
And don't forget to "Like" It's Just Movies on Facebook at
http://www.facebook.com/itsjustmovies.