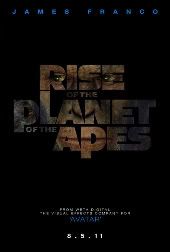 I have always been a fan of the "Planet of the Apes" franchise. I have watched all of the movies and even was a faithful follower of the short-lived television series and later the cartoon shows. Now 20th Century Fox is adding a new twist to a new edition to the ape movies.
Director Rupert Wyatt is taking us on a new adventure into the future. The movie shows the possibilities of a different world brought on by good intentions, but the results are really bad for mankind.
The screenplay is by Rick Jaffa and Amanda Silver and the film-makers are working with WETA Digital. In this series of featurettes, we see Joe Letteri, senior visual effects supervisor, and Dan Lemmon, visual effects supervisor, speaking on the CGI film that will show more intelligent facial expressions and are able to show ape movement in a much more realistic fashion..
WETA has worked with groundbreaking technology and effects in such films as all three "Lord of the Rings" movies and "Avatar." Letteri and Lemmon are working on bringing a new level of realism to the newest film of the series.
In this film, we still have the main ape that thinks and starts the ape revolution and his name is Caesar. This Caesar, however, is not born of Cornelius and Zira who travel back from the future. This Caesar is the product of a doctor, who uses him to test his experimental drug on him. This drug is supposed to repair brain damage, but the side effect increases intelligence. Caesar soon sees the world for what it can be and then sees the dark side
.
This new franchise has an impressive cast, including James Franco, John Lithgow, Freida Pinto, Brian Cox, Tom Felton and Andy Serkis (who plays Caesar). I have no doubt the special effects will be outstanding; the storyline and how it fits in with "The Planet of the Apes" franchise remains to be seen. I look forward to being impressed.
"Rise of the Planet of the Apes" opens in theatres Aug. 5.
. . .
Follow Lynn Tackitt on Twitter at http://twitter.com/pvtgiggles.