— by CHERRY BELL DAMASCO-FARRINGTON —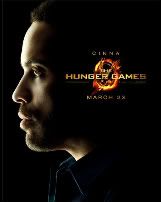 There are 16 more days until the theatrical release of "The Hunger Games" and Lionsgate has turned up the marketing campaign for one of the most anticipated films of 2012.
With members of the cast and its director on a national mall tour for the beginning of March (sponsored by Hot Topic — the same clothing franchise to promote "The Twilight Saga" in its early stages with a mall tour), there came news of a Facebook game developed with the aid of Suzanne Collins herself in which fans and newbies alike to see for the first map of Panem that the author describes in her novel. Additionally, there is an online campaign via Twitter to win tickets to a pre-screening event in 24 cities across the United States, and now Lionsgate has released a second clip in which we see more of Katniss Everdeen's (Jennifer Lawrence) stylist, Cinna (Lenny Kravitz).
Kravitz made his film debut in 2009's "Precious" and it seems that this multi-talented man is not going to go away anytime soon. In this second clip from "The Hunger Games," we see Katniss meeting Cinna for the very first time and she is taken aback by his approach. He is nothing like the other Capitol citizens she has met so far in her journey to the City. It seems that Cinna doesn't share in the Capitol's view on the Games and is truly there to aid her in capturing the nation and perhaps attract some sponsors while she is in the arena. She wants to make an impression on the viewers so that she will not be forgotten so easily.
For those of us who have read the novels, we have a pretty good idea of what Cinna has in mind for Katniss' wardrobe as Collins describes them. The Los Angeles premiere of the film is on March 12 at the Nokia Theater while the official theatrical release is on March 23.
If you haven't seen the first clip released exclusively via "The Hunger Games" CapitolTV last week, take a gander at it HERE.
. . .
Follow Cherry Bell Damasco-Farrington on Twitter at https://twitter.com/cbdamasco.
And don't forget to "Like" It's Just Movies on Facebook at
http://www.facebook.com/itsjustmovies.