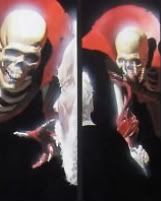 Throughout this year, Marvel has been very busy with its successful slate of movies and upcoming adaptions of several TV shows (such as "Hulk" and "Jessica Jones" for example), but rival DC Comics done much on the small screen since "Smallville" ended (aside from the failed "Wonder Woman" pilot) — but that may be about to change.
Deadline is reporting that the creator of "Supernatural," Eric Kripke, is going to adapt the comic book character as a show writer and executive producer. For those of you who aren't familiar with the character Deadman (shown here in artwork by the fantastic Alex Ross), here is a good description from Deadline about the project:

The project is about the spirit of a murdered man, Boston Brand, who lives on as he inhabits other people's bodies and helps them solve crises in their own lives. It is produced by Warner Bros. TV, which handles the mining of the DC catalog for TV series.
I think it's good that DC/WB is getting back to making new shows with their DC characters – with the success that "Smallville" had, they have so many opportunities now aside from their franchises on the big screen. Even though Deadman is unfamiliar to most, this is being developed by Kripke, who created "Supernatural." I have watched that show a couple times and I like what Kripke has brought to that show. And hopefully this project won't disappear mysteriously — like the "Raven," "Blue Beetle" and "Sandman" projects (which were supposedly being developed as well) did.
Stay tuned for more information about "Deadman" and in the meantime, I want to hear your thoughts. Does "Deadman" sound like a character that you would like to see on the screen? Let me know what you think by adding your comments to the right.
. . .
Follow Andy Behbakht on Twitter at http://twitter.com/Haoh93.
And don't forget to "Like" It's Just Movies on Facebook at
http://www.facebook.com/itsjustmovies.