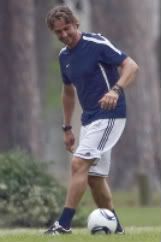 FilmDistrict has acquired all U.S. rights to "Playing the Field" from Nu Image/Millennium Films.
"Playing the Field" kicks off with the homecoming of George (Gerard Butler), a retired soccer pro whose glory days are behind him. Burnt out on his playboy lifestyle and bankrupted by a string of bad investments, George moves back to Virginia to reconnect with his estranged ex-wife (Jessica Biel) and neglected son (Noah Lomax). Making up for lost time, George starts to coach the boys' soccer team. But can he keep his eyes on the goal when the bleachers are stacked with sexy soccer moms and desperate housewives?
Directed by Gabriele Muccino ("The Pursuit of Happyness") from a script by Robbie Fox ("So I Married and Axe Murderer"), "Playing the Field" also includes Judy Greer, Dennis Quaid, Uma Thurman and Catherine Zeta-Jones.
FilmDistrict CEO Peter Schlessel said, "'Playing the Field' is a fun PG-13 romantic comedy that in the very capable hands of Gabriele Muccino is sure to be a hit. The great comedic cast will definitely have fun with Robbie Fox's terrific script."
"Playing the Field" is a production by Gerard Butler and AlanSiegel's Evil Twin Productions in association with Kevin Misher, Jonathan Mostow, Heidi Jo Markel and John Thompson. Nu Image / Millennium Films' Danny Dimbort, Trevor Short & Avi Lerner are serving as executive producers.
"We are very pleased to have closed this deal with Peter Schlessel and FilmDistrict for 'Playing the Field' and hope it will be the first of many to come" said Avi Lerner, co-chairman of Nu Image/Millennium Films. " I am confident they will do a great job bringing this picture to market."
FilmDistrict is planning to release the film in Spring 2012.
. . .
"Like" It's Just Movies on Facebook at http://www.facebook.com/itsjustmovies.