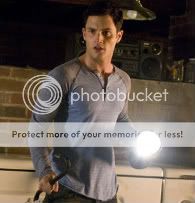 — by ALEXA MILAN —
Though "The Stepfather," the new thriller from director Nelson McCormick (of "Prom Night"), doesn't open until Friday, you can catch a glimpse of it now in this behind-the-scenes featurette.
Penn Badgley (of "Gossip Girl") stars as Michael Harding, a military school teen who comes home to find his mom (Sela Ward) living with her new boyfriend David (Dylan Walsh). But when their neighbor points out David's resemblance to a man she saw on "America's Most Wanted," Michael begins to suspect his new stepfather may be hiding a sinister secret.

Though most of the footage from the film in the featurette was shown in the trailer, there are a few new scenes, including a particularly chilling one involving a cell phone. There are also some interviews with McCormick and the cast.
The PG-13 horror flick arrives in theaters just in time for Halloween, and will likely appeal to the same teen crowd that made "Disturbia" a box office hit.
Follow Alexa Milan on Twitter at http://twitter.com/alexamilan.