Kevin Smith is "so, like, sick of movies and s–t," according to a recent interview with LA Weekly. The comedy director has announced he'll quit film-making after his next movie, and he's going out on his own terms.
Smith is currently winding down his "Red State" tour, which concludes today at the Wiltern Theater in Los Angeles. After the movie's premiere at the Sundance Film Festival, Smith announced he would distribute it himself, starting with a nationwide tour including screenings and Q&A sessions.
On April 10, Smith will auction off props and costumes from some of his past films — including Ben Affleck's wings from "Dogma" (shown below) and a cash register from "Clerks II" — at the Pasadena Convention Conference Center to help with distribution costs of the $4 million film. "Red State," a horror flick about a Westboro Baptist Chuch-esque fundamentalist group starring Melissa Leo, Michael Parks, Stephen Root and Michael Angarano, will hit theaters Oct. 19.
Here is the official press release:
Kevin Smith, writer/director of such films as Clerks, Chasing Amy, Dogma, Jay and Silent Bob Strike Back and the upcoming Red State is partnering with Propworx, Hollywood's premier studio auction house to announce Kevin Smith Sells Out: The Official Askewniverse Garage Sale. The auction will commence on April 10, 2011 at 10:00am at the Pasadena Convention Center and will feature hundreds of props, costumes, comic art, and set pieces from Kevin's catalog of films and projects. Kevin will also podcast live from the event, telling behind the scenes stories about the items.

Most notable among the lots are the Bartleby's Angel Wings and Torso Armor from Dogma. Worn by actor Ben Affleck during the final battle, the poseable, bloody angel wings measure 80" x 60". Also on the auction block are amazing pieces of original comic art, including artwork from Green Arrow, Daredevil: The Man Without Fear, Bluntman & Chronic, Jay and Silent Bob, and Clerks.

Propworx will have everything on display at the auction in a museum-style setting, so fans can see every single lot that will be on the auction block. A full-color catalog is available, serving as a guide to the auction with photos and detailed descriptions of each item. For more information and to purchase the catalog, go to http://KevinSmith.Propworx.com.

In addition, items from the auction will be on display at the Red State screening and Q&A, the evening before the auction, in Los Angeles at the Wiltern Theatre on April 9, 2011. For more details and ticketing information for Kevin Smith's all Red State Tour, go to http://www.CoopersDell.com.

"Ever since I saw Clerks while out on a date, I've wanted to thank Kevin in an appropriate way for his help that night. What better way to do this than to help him get his stuff out of his storage units and into the hands of his most passionate fans?" said Alec Peters, CEO of Propworx, and Kevin Smith's 327th most passionate fan.

"As a prop-lovin' movie geek, it is my distinct pleasure to unload these beloved props on other movie geeks with disposable income and a boner for all things Askew. And as much as I love the costumes and crap from all of our flicks, I'm selling these storied pieces of the View Askewniverse to help us self-distribute our new film Red State. In essence, I've gotta sell the past if I wanna pay for the future. If you're a fan of anything we've ever done, I suggest getting a second job or a second mortgage – because there's bound to be an actual piece of View Askew history you will need to own. Soar like an angel with the wings from DOGMA! Dress like a C.L.I.T. from JAY AND SILENT BOB STRIKE BACK! Own the painting of birds bought at a diner in CHASING AMY! Frame the pages of actual artwork from years of comic books I've written! But if nothing else, make sure you pick up the AWESOME hardcover auction catalog Propworx has put together: it's like the View Askew Yearbook, packed with images of everything that's up for sale on April 10 — when we'll be doing JAY AND SILENT BOB GET OLD — live, during the auction, color-commentating on our selling-out!"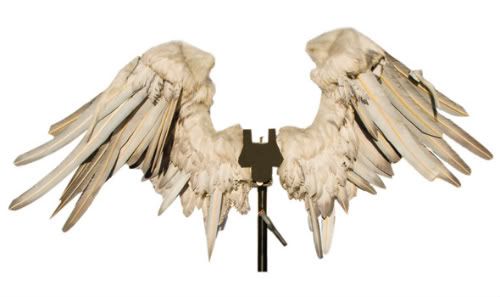 Following "Red State," Smith said his last film will be "Hit Somebody," a hockey movie featuring many of the "Red State" cast members. After that? "All I want to do is talk, talk, talk," he told LA Weekly.
In his retirement from film, Smith will devote his time to speaking tours and expanding his Smodcast podcast to a two-hour daily Internet radio show. He also said he hopes to distribute other people's movies under Smodcast Pictures, the name under which he's distributing "Red State." Plus, there's his active Twitter account to attend to.
Frankly, I'm not that surprised Smith wants to exit film-making. He's always been a fiercely independent filmmaker and seems to have grown weary of the structure of the film industry. He's seemed way more invested in tweeting and Smodcasting for a while now, and I imagine his dedicated fan base would pay good money to see his speaking tours, if his successful "Red State" tour is any indication (the cheapest tickets are nearly $70).
What do you think? Are you sad to see Smith exit the film-making world, or do you think his talents are better suited elsewhere? Sound off in the comments section.
. . .
Follow Alexa Milan on Twitter at http://twitter.com/alexamilan.
And don't forget to "Like" It's Just Movies on Facebook at
http://www.facebook.com/itsjustmovies.