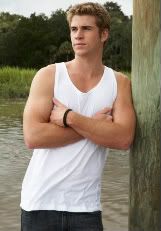 The cast list for "The Expendables 2" continues to grow. This time around, the old gang will get some new blood. We are getting word from the good folks at Variety that Liam Hemsworth (of the upcoming movie "The Hunger Games") is joining the already monstrous cast for this Millennium Films sequel.
Sylvester Stallone's sequel promised to be bigger and to have more action stars from the past and that is certainly happening. So far, the list of action greats continues to grow with the additions of Jean-Claude Van Damme and Chuck Norris in addition to larger roles for returning characters played by Bruce Willis and Arnold Schwarzenegger. And we can probably rest assured Jason Statham, Mickey Rourke, Jet Li, Dolph Lundgren, Terry Crews and Randy Couture will return as well.
But we had also heard not too long ago the film would be getting some young blood, and immediately the rumor mill assumed we would probably be seeing Taylor Lautner joining the team.
Instead, Variety has scooped the news that Liam Hemsworth, brother of Chris Hemsworth ("Thor"), is joining the team, and he will be assisting the bunch as a sniper. Personally, I have only seem Liam in "The Last Song" — yes, the Miley Cyrus flick. It was actually a nice movie, and the Liam showed he could act, and still be the cute boy. I am sure he will get picked on in "Expendables," but it will only force him to work harder to earn the old guys' respect. Of course, this is just my prediction.
I'm really liking everything I'm hearing about this project, and when filming starts next month, you can be sure I will be following its progress with great interest.
What's your prediction? What do you think about the cast so far, and the addition of Liam Hemsworth? Excited? I am.
Simon West is directing "The Expendables 2," which hits theaters Aug. 17, 2012.
. . .
Follow Josue Sanchez on Twitter at http://twitter.com/Josue_can.
And don't forget to "Like" It's Just Movies on Facebook at
http://www.facebook.com/itsjustmovies.