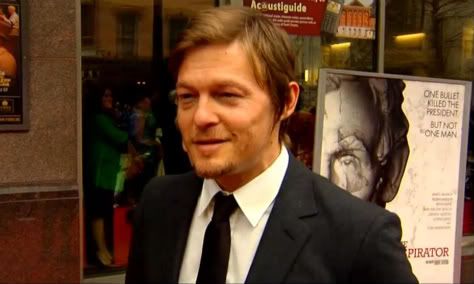 Norman Reedus, best known for "The Boondock Saints" and "The Walking Dead," was interviewed outside The Ford Theatre on his way into the premiere of "The Conspirator." Reedus plays the role of Lewis Payne in the film.
Laid back and looking very relaxed, Reedus talks about why he chose to be involved with Robert Redford's latest movie and some experiences while filming.

The following is for those who can't view the video:
When asked of why he wanted to do the role, Norman replies, "It's Robert Redford first off. I would do a dog food commercial with Robert Redford. The script was really good; to play a piece of history was super interesting. The role that I play had a lot of back-story, on Lewis Payne. He could have been a movie all unto himself. So, yeah, of course, why wouldn't I do this?"
On asked of the conditions of filming, he responds, "Well … it was Savannah, so it was insanely warm. I stayed in Georgia and went from Savannah to Atlanta to do 'Walking Dead,' so I got a lot of Georgia. The outfits were basically burlap sacks. There was one where they put a burlap sack over my head when they were hanging me … so that was creepy. Basically the weather and the outfits were itchy and wool."
After Reedus thanks the interviewer starts to head into the theatre, he spots a fan and says, "Hi! Have fun." And gives them a high five. With a smile and a thank you, he goes into the theatre.
Norman Reedus fans are looking forward to seeing him this Friday, April 15, when "The Conspirator" opens in theatres.

And in case you missed it, we previously did an interview of our own with Norman Reedus (where he mentions "The Conspirator," coincidentally). Read it HERE.
. . .
Follow Lynn Tackitt on Twitter at http://twitter.com/pvtgiggles.