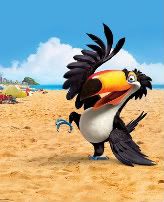 Stolen by poachers from his home in Brazil when he was a baby bird, Blu (Jesse Eisenberg) gets adopted by a low-key bookstore owner named Linda (Leslie Mann). Over the next 15 years, they develop a bond that turns out to be an isolated relationship for the both of them. Domesticated and unable to even fly, it is a major shock when a scientist named Tulio (Rodrigo Santoro) arrives in Minnesota and tells them Blu may be the last male of his species and asks if they will go to Rio to mate with what could be the last female blue macaw. Agreeing reluctantly, they journey from the snow-filled streets of Minnesota to the colorful, music-filled Rio right in the midst of preparations for the annual Carnival. Upon meeting Jewel (Anne Hathaway), Blu starts to realize they aren't a match made in heaven.
When Blu and Jewel are bird-napped from the science institute by illegal poachers and chained to each other, they have to evade and escape their captors, get the chain off and go back to their completely opposite lives. While Blu can only think of getting back to Linda, Jewel just can't fathom how any bird wouldn't want to be free like her, soaring through the trees of Rio de Janeiro. The journey is made more perilous by an evil bird Nigel (Jemaine Clement) who is working with the poachers and is hot on their tails. Help comes in the form of a Toucan named Rafael (George Lopez), a bulldog named Luiz (Tracy Morgan), and two hip rapping birds named Nico (Jamie Foxx) and Pedro (Will.I.Am). Can Blu and Jewel break free of the bonds that literally bind them and will either have a change of heart about where they belong?
Directed by Carlos Saldanha (the "Ice Age" trilogy and "Robots) and made by Blue Sky Studios, "Rio" is filled with music, color and culture. With so many marvelous and endearing animated films recently released, a studio must not only get a slam-dunk with the animation, but with the story as well. As the recent flop "Mars Needs Moms" showed, dazzling imagery is not the only factor in making a box office success. If the audience — and especially children — don't connect to and root for the characters onscreen, then the film is bound to not do well.
Besides 2009s "Avatar," no live-action film has utilized the 3D technology as well as some animated films. "Rio" is one of those films whose atmosphere and settings were made to be shown in 3D. Whether flying through the giant trees in the forest, or swooping down through the crowded streets, you are placed in the environments and that adds a level of connection to the story and its heroes as they are on the trek across the city and jungle.
The voices behind the main characters were cast perfectly. Banking on the actor's personality and professional strengths to enhance each animal or human character helped to bring out the best performances. Jesse Eisenberg, the habitual nerd, fit the character of Blu well. His coyness and abnormalities only brought more texture to the role and made you root for him to succeed. Anne Hathaway's Jewel was strong and independent but ultimately vulnerable and seeking love. As side-kicks go, you can't go wrong with comedic talent like George Lopez and Tracy Morgan. Lopez and Morgan were a constant source of laughter that helped bring the entire cast together. We also have of Jamie Foxx and Will.I.Am in dual roles as voice actors and musicians who supply un and upbeat dance music to the film's soundtrack. The villain, played by Jemaine Clement, wasn't the most ominous and threatening that I have seen, but was more like a crazy cockatoo. He was vicious but also a little silly. Other supporting voices in this film include Wanda Sykes, Jane Lynch, Bernardo De Paula, Carlos Ponce and Bebel Gilberto.
Although this film was silly, beautiful and fun, it lacked a certain connection in the story. It did, however, keep me involved from start to finish because of the animation and the music. "Rio" takes you from the jungles of Brazil, to the slums, through the streets during the world famous carnival and beyond. The music was upbeat and could very well be played at nightclubs to be danced to. Leaving the movie, I felt that I had a better understanding of Brazilian culture and traditions and that was awesome to discover. This is yet another film that has a soundtrack worthy of my iPod — yes, the songs weren't all winners, but there are a few that are still stuck in my head.
Overall, the acting and comedy is decent, the storyline could have been a bit stronger, but it's the visuals and music that make this movie worthy of a recommendation, especially if you have small children.
Are you planning on flocking to the theaters to check out "Rio" this weekend? Tell me what you think in the comments at right.
"Rio' flies into theaters April 1 and will be available to watch in 2D and 3D.
. . .
Follow Adam Poynter on Twitter at http://twitter.com/CCWGGuy.
And don't forget to "Like" It's Just Movies on Facebook at
http://www.facebook.com/itsjustmovies.