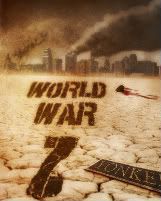 Paramount Pictures set a release date of Dec. 21, 2012 for "World War Z" starring Brad Pitt, with Marc Forster ("Quantum of Solace") directing. The geo-political thriller from Paramount and Skydance Productions, in association with Hemisphere Media Capital and GK Films, is a Plan B Entertainment/Apparatus Productions production that is shooting in England following initial photography completed in Malta last month. The film will also shoot in Scotland and Hungary.
Produced by Pitt, Dede Gardner, Jeremy Kleiner and Colin Wilson, the screenplay is written by Matthew Michael Carnahan (State of Play) from Max Brooks' best-selling novel "World War Z: An Oral History of the Zombie War." Starring Pitt, Mireille Enos (AMC's "The Killing"), James Badge Dale ("The Departed"), Matthew Fox ("Lost") and Daniella Kertesz in her feature film debut. The film's executive producers are Forster, Brad Simpson, David Ellison, Paul Schwake, Dana Goldberg, Graham King and Tim Headington.
The story revolves around United Nations employee Gerry Lane (Pitt), who traverses the world in a race against time to stop the Zombie pandemic that is toppling armies and governments and threatening to decimate humanity itself. Enos plays Gerry's wife Karen Lane; Kertesz is his comrade in arms, Segen.
Behind-the-scenes talent includes two-time Academy Award®-winning cinematographer Robert Richardson, production designer Nigel Phelps, costume designer Mayes C. Rubeo and editor Matt Chessè.
. . .
"Like" It's Just Movies on Facebook at http://www.facebook.com/itsjustmovies.