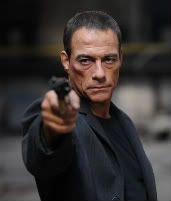 In the 1990s, Jean-Claude Van Damme was well known in the action movie world. The ladies all liked him; men thought he was a man's man of action. Through the years, though, he hasn't been as visible.
He seems to stay busy doing voiceovers for cartoons and doing sequel after sequel of "Universal Soldier." Don't get me wrong — I love it when stars do voiceovers for animated shows or movies. But I think it's kind of sad when past stars keep churning out sequels on movies that are just so-so to begin with.
In 2010, Sylvester Stallone came up with the concept of putting a bunch of older action stars in one really action-packed movie. He invited Van Damme to be a part of it. Van Damme turns him down. What was he thinking? Who knows? The movie scored big at the box office and puts the stars' names in the limelight again and introduced them to a whole new generation of fans.
So now, for the sequel, Van Damme is invited back again. This time he says yes … on one condition. Steven Seagal cannot be in it. I'm sorry, but how old are you, JCVD? You have a chance to revamp your career with a different movie and you make childish conditions?
I personally consider this not only childish, but also extremely unprofessional. If Seagal is not in the movie it should be because the makers of the movie decide he is not right for what they have in mind, not because a spoiled actor thinks he has the right to make that condition.
Don't girls in the elementary schoolyards do this? Well, if you're friends with her you can't be friends with me, sort of stuff. At this time of their lives, it is time to put aside whatever petty reasons and make a bold career choice. This is a poor way to behave in this type of career. Of course, given my due, when I hear of such terrible behavior I won't spend a dime to go see it at the theatre unless the pros outweigh the cons. "Expendables 2" I will gladly go see — the actors in the movie outweigh the spoiled behavior of Van Damme.
If they should decide to cast him, I think he should be cast as a villain. They can't all be good guys and, of course, he should be able to give the guys a challenge. Not all villains are wimps — but few seem to be team players. And, of course, JCVD already has shown signs of not being a team player.
. . .
Follow Lynn Tackitt on Twitter at http://twitter.com/pvtgiggles.