We are only two weeks away from the big "Smallville" finale and tonight, Callum Blue returns for his final appearance as General Zod before he passes the torch to Michael Shannon, who will portray Zod in Zack Snyder's upcoming "Man of Steel."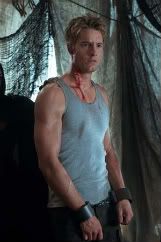 Here's the official description of tonight's episode:
Tess (Cassidy Freeman) learns that General Slade was found unconscious on a street corner, proof that someone has gained access to the Phantom Zone's escape portal and sent him back. Clark (Tom Welling) decides to return to the exiled land to make sure other phantoms are not fleeing and is furious when Oliver (Justin Hartley) tricks Clark into taking him along. With Clark's powers gone, the two are immediately captured by the Zoners who take them to their new leader, Zod (Callum Blue), who is thirsting for revenge on Clark for banishing him to this Kryptonian jail. Meanwhile, Lois (Erica Durance) learns Clark trusted Tess with a secret, but didn't tell Lois. Justin Hartley directed with story by John Chisholm.
Not only am I thrilled for the return of Zod, but this episode is also Justin Hartley's directorial debut and I have to say, I loved the episode that Hartley wrote last year, "Sacrifice."
Let's start this preview with the trailer:
I have always loved the episodes when the Phantom Zone is featured and seeing that Clark will fight against Oliver there — well, I can't wait to see it. The plot revolves around Zod being the leader of the Zone — which is something that I always expected "Smallville" to do with Zod. From what I have heard about this episode, we will see several versions of him in Dominion and it should be interesting to see that.
Next, let's move on to another preview:
Like the description said before, Lois will found out about a secret Tess and Clark were keeping together and what surprises me so much is that Clark is still keeping things from Lois. Last I checked, they are getting married pretty soon – you would expect Clark to be completely honest with her. But Clark has his reasons, so I guess we'll found out tonight what it is and why he kept it from her.
Also, it's always a pleasure to see Erica Durance and Cassidy Freeman interact. Since they are allies, I shouldn't expect a catfight between them — which is what I always love see — but who knows, since Lois won't be happy when she founds about what those two have been keeping with her, things might get a bit physical after all.
I love that Oliver always start with a funny line when he gets into a situation like that. One thing I will really miss when "Smallville" is over is Oliver's sense of humor. Also, I will miss Callum Blue as General Zod — he brought so much last year as one of our hero's most intimidating enemies. I hope Shannon will watch this episode, because he really should — I think he can learn a thing or two from it.
Don't miss the return of General Zod on "Smallville" tonight, 8 p.m. EST on The CW. Let us know what you think and expect from this episode by hitting with your comments to the right.
. . .
Follow Andy Behbakht on Twitter at http://twitter.com/Haoh93.
And don't forget to "Like" It's Just Movies on Facebook at
http://www.facebook.com/itsjustmovies.