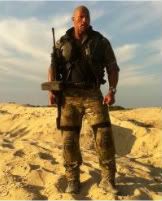 With last year's "Faster," this year's "Fast Five," and next year's "G.I. Joe 2: Retaliation," Dwayne "The Rock" Johnson is diving back into action movies head first, and his fans couldn't be happier. He also has "The Fast and the Furious 6" already slated for 2013.
But next up it's "G.I. Joe 2: Retaliation," and in a popular move that many stars are doing lately, he bypassed his public relations agency and posted an official movie photo through his own Twitter account.
It's a cool photo of him as Roadblock, standing in the desert holding a rifle. He looks tough, and he looks ready for action.
He also commented on his post: "1st day of shooting. 110 degrees. Bring it."
This is a perfect little teaser to get his fans ready for the upcoming reinvigorated project. I for one am getting a good feeling about this sequel.
I'm case you don't already follow the charismatic celebrity on Twitter, his account is @TheRock.
What do you think about the photo? How are you feeling about the movie?
"G.I. Joe 2: Retaliation" — which will hit theaters on June 29, 2012 — also stars Channing Tatum, Adrianne Palicki, Ray Stevenson, Ray Park and (likely) Bruce Willis.
. . .
Follow Josue Sanchez on Twitter at http://twitter.com/Josue_can.
And don't forget to "Like" It's Just Movies on Facebook at
http://www.facebook.com/itsjustmovies.