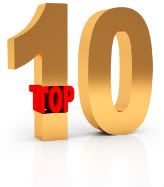 — by CAM SMITH —
We previously offered you The Top 10 Films of 2009: Part I — No. 10 to No. 6 (read it by clicking here). And now for the rest of the list …
But first, here are the movies from 2009 that didn't make the Top 10, but are deserving of an Honorable Mention: "The Bad Lieutenant: Port of Call New Orleans"; "Brothers"; "An Education"; "(500) Days of Summer"; "The Girlfriend Experience"; "Moon"; "Precious"; "Public Enemies"; "Summer Hours (L'heure d'été)"; and "Watchmen."
. . .
5. "Adventureland"
Criminally under-seen during its release, writer/director Greg Mottola's lovable amusement park coming-of-age tale deserves recognition alongside the life-affirming works of Cameron Crowe. A touching tribute to the lazy summer days and nights of low-wage employment, "Adventureland," with its marvellous cast — including Jesse Eisenberg, Kristen Stewart and Ryan Reynolds — and impeccable soundtrack, lulls you into a blissful state of nostalgic joy, where even the raunchiest laughs speak to a recognizable truth. This is a movie you want to hug and treasure; a tender reminder of time gone by and of those balmy, enchanted evenings when the mysteries of the cosmos could almost be unlocked by a bright smile or an adoring gaze.
. . .
4. "Up"
Following in the rusty tread-marks of "Wall-E," Pixar's tenth feature-length slice of animated delight once again proved the studio to be the utmost crafters of emotionally-devastating first acts in the business, with a heart-rending, dialogue-free recap of the romantic life of Carl and Ellie Fredrickson leaving many — myself included — moist-eyed and sniffling. Luckily, Pete Docter's "Up" manages to hold its course for the entire duration, shifting from thrilling adventures, to sincerity and broad comedy as buoyantly as Carl's magnificently soaring home.
. . .
3. "A Serious Man"
Of the numerous original characters that emerged in 2009, none were quite as tragically unforgettable as Larry Gopnik (Michael Stuhlbarg), the beat-down Jewish physics professor battling to escape a suffocating hell of personal, professional and existential crises. Wearing a frazzled expression of woeful hope and, alternately, impotent dread, the bespectacled Larry's blackly comic descent into damnation provides the bitter center to the Coen Brothers' challenging and often deeply unsettling '60s-set absurdist odyssey. Utterly uncompromising, "A Serious Man" is a tantalizing cinematic enigma that attaches itself to your brain and refuses to let go. No matter how nicely you ask it.
. . .
2. "The Hurt Locker"
Appearing like an oasis in a sea of bloated political polemics, "The Hurt Locker" succeeds triumphantly by eschewing the hot-button issues almost entirely. Rather, in drawing us into the white-knuckle day-to-day life of Ssgt. William James (Jeremy Renner in a star-making performance), an adrenaline junkie tasked with defusing bombs in war-torn Iraq, director Kathryn Bigelow adroitly provides a nail-bitingly suspenseful you-are-there experience which, true to the movie's "War is a Drug" tagline, leaves you feeling shaken and buzzed, yet fixing for more.
. . .
1. "Inglourious Basterds"
If "Death Proof" occasionally felt like Quentin Tarantino spinning his wheels, this blood-spattered ode to WWII and the liberating power of cinema is like a baseball bat to the head of mainstream filmmaking — a staggeringly grand-scale-yet-intimate effort that you yearn to dismantle just so you can decipher why its disparate parts fit together so flawlessly. From its gripping intro — wherein sadistic Nazi Hans Landa (the chilling Christoph Waltz) interrogates a frightened farmer — to its nightmarish conclusion, "Inglourious Basterds" hums captivatingly along like a brutal, witty, well-oiled machine. Movies this breathtaking, innovative and unique are a dearly treasured rarity, and I'm indescribably thankful to know that — 16 years in — Tarantino still has enough fight left in him to continue to shock and awe anyone who buys a ticket.
. . .
Follow Cam Smith on Twitter at http://twitter.com/camspcepisodes.