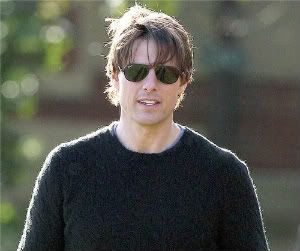 It isn't a secret that "At The Mountains Of Madness" has been a passion project for Guillermo Del Toro for some time. At last summer's Comic Con, he hinted about starting production on the film adaptation of H. P. Lovecraft's horror novella during his presentation of "Don't Be Afraid of the Dark." Days later, the official announcement was made. Produced by James Cameron, "Madness" will be shot in 3-D.
Now, Del Toro's sure-to-be-legendary horror flick has a lead and it's none other than Tom Cruise, who had shown interest in the role since last month.
For those not familiar with the H.P. Lovecraft story, here is a description of the narrative, per Amazon:
A complete short novel, AT THE MOUNTAINS OF MADNESS is a tale of terror unlike any other. The Barren, windswept interior of the Antarctic plateau was lifeless — or so the expedition from Miskatonic University thought. Then they found the strange fossils of unheard-of creatures … and the carved stones tens of millions of years old … and, finally, the mind-blasting terror of the City of the Old Ones. Three additional strange tales, written as only H.P. Lovecraft can write, are also included in this macabre collection of the strange and the weird.
I have not read the novella, but I plan to do so since he is a favorite among horror aficionados and, in my opinion, Del Toro will do the intense and terrifying material from "Madness" justice as the talented director is a visionary in his own right. Anyone who has watched "Pans Labyrinth," "The Devil's Backbone" and "Hellboy" will agree with this.
As for Tom Cruise starring in this project, he sounds like a good fit to me. Cruise can play manic on and off-screen. Need I remind anyone of his work on "Magnolia" and "The Today Show" with Matt Lauer? All kidding, aside, Cruise is a splendidly-charismatic actor who, after all these years in front of the camera, has a great passion for his work and is still entertaining to watch.
Also confirmed for the film is Ron Perlman. No word on whom he will play as of yet. However, he told io9 he is "this sort of sled dude."
In a separate interview with io9, James Cameron discussed the overall look and feel of the project by saying, "The design work is phenomenal, both the three-dimensional and two-dimensional design work, the physical maquettes, the CG test scenes; the artwork is phenomenal. The fans certainly won't want for a visual feast with this film."
I'm definitely aboard and once more news arrives regarding this project, I will keep you updated!
Until then, sound off to the right with your thoughts.
. . .
Follow Sherice Antoinette on Twitter at http://twitter.com/ShericesPieces.
And don't forget to "Like" It's Just Movies on Facebook at
http://www.facebook.com/itsjustmovies.