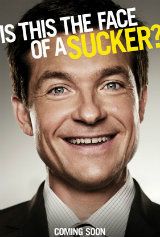 Jason Bateman is back and he is re-teaming with his "Horrible Bosses" director Seth Gordon on a new film called "Identity Thief." Bateman plays a straight-laced, conservative Denver resident named Sandy Bigelow Patterson.
Sandy finds out he has had his identity stolen and he has charges against him, so he heads off to Florida to catch the perpetrator and clear his name. With just a week to clear up this mess, he finds and confronts the woman, Diana (Melissa McCarthy), a shop-a-holic who has been going on a shopping spree with his credit card. What Sandy thinks will be an easy job turns into a battle for the ages pitting the two very different people against each other. He must wrangle in this loose cannon and somehow get her to go to court and clear his name, but nothing is ever as easy as that.
The first trailer has been released from this upcoming comedy so you can watch it below:
My first thought is about how well paired the leads are. Nobody does deadpan better than Bateman, and McCarthy's star has been on the rise ever since her breakout role in "Bridesmaids," where she stole focus in every scene she was in.
Originally, the role of the thief was written for a man, but after Bateman saw McCarthy in "Bridesmaids" he suggested that the role be adapted for her. It's hard to tell how the movie will play out, because McCarthy is such a likeable actor you feel for her while still wanting justice to be dispensed. Although it is nice to see the stark contrast between her character's upbeat attitude and how quickly it changes when she feels threatens, even getting violent.
Another obvious observation is that there are similarities between "Identity Thief" and 2010's "Due Date" in which two very different strangers go on a trip together and there is a massive clash in personalities that results in pandemonium and chaos. The biggest difference is that these two aren't trying to become friends, but I can guess that Sandy and Diana will at least find some common ground by the end of the movie.
I do think that McCarthy will be hilarious in this role and while I do think she is one of the funniest up-and-coming comedy actresses in the industry today, I don't want to become a stereotype of the characters she plays and be typecast forever.
Besides these two funny individuals, we also have many more talented actors making up the rest of this cast, including Amanda Peet, Genesis Rodriguez, Jon Favreau, Clarke Duke, John Cho, Eric Stonestreet, Morris Chestnut and Ben Falcone.
So what do you think of this trailer, will it be a funny collaboration or just another generic comedy by two talented individuals? Leave a comment and let us know.
"Identity Thief" is set for release Feb. 8, 2013, and has yet to be rated, but expect it to get a PG-13 rating.
. . .
Follow Adam Poynter on Twitter at http://twitter.com/CCWGGuy.
And don't forget to "Like" It's Just Movies on Facebook at
http://www.facebook.com/itsjustmovies.