Before they work together in "The Muppets," Jason Segel and Amy Adams will be co-starring in a little romantic comedy called "Green with Envy."
Check out the trailer first and then we'll discuss it.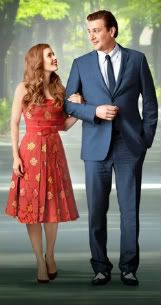 Assuming you didn't cheat and read ahead, you discovered that there is more to this trailer than meets the eye.
Muppets!
"The Muppets" are due to arrive in theaters Nov. 23. And while it would be difficult to get me more excited for a new Muppets movie than I already am, this trailer shows me we should be in for a fun time.
Here's the movie's official synopsis:
On vacation in Los Angeles, Walter, the world's biggest Muppet fan, and his friends Gary (Jason Segel) and Mary (Amy Adams) from Smalltown, USA, discover the nefarious plan of oilman Tex Richman (Chris Cooper) to raze the Muppet Theater and drill for the oil recently discovered beneath the Muppets' former stomping grounds. To stage The Greatest Muppet Telethon Ever and raise the $10 million needed to save the theater, Walter, Mary and Gary help Kermit reunite the Muppets, who have all gone their separate ways: Fozzie now performs with a Reno casino house band called the Moopets, Miss Piggy is a plus-size fashion editor at Vogue Paris, Animal is in a Santa Barbara clinic for anger management, and Gonzo is a high-powered plumbing magnate.
In addition to Segel and Adams, "The Muppets" stars Chris Cooper, John Krasinski, Rashida Jones and a slew of other stars.
. . .
Follow Kathleen Collins on Twitter at http://twitter.com/Super_Kathleen.
And don't forget to "Like" It's Just Movies on Facebook at
http://www.facebook.com/itsjustmovies.