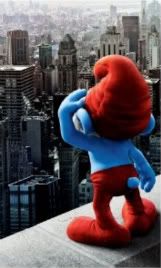 "Yogi Bear" may have debuted below studio expectations last holiday season, but that isn't stopping the flow of 3D big screen adaptations of classic cartoons.
Next up is "The Smurfs," based on the comic and animated TV series about a group of small blue creatures that live in Smurf Village. In the film, the Smurfs have to flee their village to save themselves from the evil wizard Gargamel, and they wind up in New York City. The Smurfs set off on an adventure to find their way home before Gargamel discovers where they are.
Maybe it's just because I didn't grow up loving the Smurfs, but I'm pretty indifferent to this movie. Or maybe it's because I get a very "Alvin and the Chipmunks" vibe from the trailer. But the Smurfs have been wildly popular characters for decades, and I hope it ends up being a fun family film rather than a flop.
One thing "The Smurfs" does have working in its favor is a pretty stellar cast, including Neil Patrick Harris, Jayma Mays, Hank Azaria, Katy Perry, Alan Cumming, Jonathan Winters, Sofia Vergara, Kenan Thompson, Fred Armisen, Anton Yelchin, B.J. Novak, George Lopez, Paul Reubens, Jeff Foxworthy, Wolfgang Puck and John Oliver all either appear in the film or lend their voices to the Smurfs.
"The Smurfs" hits theaters Aug. 3.
. . .
Follow Alexa Milan on Twitter at http://twitter.com/alexamilan.
And don't forget to "Like" It's Just Movies on Facebook at
http://www.facebook.com/itsjustmovies.