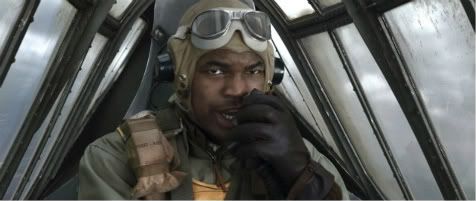 Over the years, there has been a never-ending slew of movies dedicated to wars and battles fought throughout history. While some choose to focus on specific people and others looked at the grander scheme, most have been about adversity and overcoming insurmountable odds. Newcomer director Anthony Hemingway has teamed up with George Lucas — who was an executive producer, financier and proponent for "Red Tails" — to make a film that focuses on the brave, young, all-black pilots of the 332nd fighters during World War II. The fighters were dubbed "The Tuskegee Airmen."
It's 1944 and members of the 332nd regiment are stationed in Italy under the command of Major Emmanuel Stance (Cuba Gooding Jr.). Due to inequalities at the time were based on race, this division of the armed forces uses antiquated planes to do missions of very little importance. Meanwhile, Col. A.J. Bullard (Terrance Howard) is back in the United States trying to talk the military brass at the Pentagon into giving his pilots a real chance to make a difference and fight for their country like any other American.
In the film, we meet two best friends: Marty "Easy" Julian (Nate Parker), the leader of the group, and Joe "Lightning" Little (David Oyelowo), the daring and reckless one. The rest of the squad includes Ray "Junior" Gannon (Tristan Wilds), Samuel "Joker" George (Elijah Kelley), Andrew 'Smokey' Salem (Ne-Yo), Leon "Neon" Edwards (Kevin Phillips) and the newcomer to the group, Maurice Wilson (Michael B. Jordon). Dealing with the stresses of being at war, these young men have to deal with racial prejudices on top of everything else, such as not being welcome in the local town's pub designated for American soldiers.
When American bombers keep getting shot down, the Tuskegee Airman get their first shot to go into the front and make a difference in the war. When not a single bomber is lost during the mission, the naysayers at the Pentagon cannot deny their skill and dedication any longer. Getting even more missions with even bigger risks, these rambunctious young pilots are thrust into the heat of an even bigger battle with more dangers to overcome.
George Lucas has been trying to get this film made for 23 years now, but he was turned down by all of the major studios because they believed there wasn't a market for a film with an "all-black cast" — especially in the overseas market, which can make up over 60 percent of a film's revenues. But George wouldn't take no for an answer, so he funded the film and most of its distribution costs himself. I will say that George made the right call, we rarely acknowledge social injustices of the past, but even less do we salute some of the smaller men who have made big changes in the way the world is today.
This young but very talented cast has very distinct characters that we come to know and appreciate, each with their own strengths and faults. The two main pilots, played by Nate Parker and David Oyelowo, do outstanding work and are truly convincing. One is a leader with a drinking problem and the other is the hothead who eagerly strays into danger to make a few more kills. Cuba Gooding Jr. and Terence Howard both give riveting and emotional speeches that lead the audience to cheer along with each new victory. "Red Tails" also stars Method Man, Marcus T. Paulk, Lars van Reisen, Ryan Early, Daniela Ruah, Josh Dallas and Lee Tergesen.
There is humor, excitement, pain and love in this film and it was a fun movie to watch. The aerial battles are beyond spectacular. Using the latest technology and special effects, these aerial dog fights will have you at the edge of your seat and ducking under incoming enemy fire. Making the movie feel this real and authentic wouldn't have been possible 10 or 15 years ago.
I did, however, have a problem with some of the dialogue. It seemed a bit forced and not incredibly genuine and realistic at times. George Lucas said in an interview he imagined the movie having an old-fashioned feel — fun and cheesy at times — and he got that. Some of the lines were just too on-point, and for that I was a little disappointed.
The movie as a whole is a great history lesson in where we have been, how far we've come and how much further we still have to go as individuals, as a nation and as a race. "Red Tails" will leave many with some great examples of role models and people to look up to.
"Red Tails" is rated PG-13 for sequences of war violence and is in theaters now.
. . .
"Like" It's Just Movies on Facebook at http://www.facebook.com/itsjustmovies.