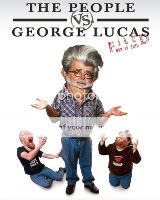 Director Alexandre Philippe and producer Robert Muratore are both self-proclaimed "Star Wars" fanboys, and like countless other "Star Wars" fans, they've created their own fan-made film to prove it.
No, they're not showing off their lightsaber skills in a home video – this isn't any ordinary fan flick. Instead, "The People vs. George Lucas" is an in-depth exploration of Star Wars fans and their love-hate relationship with George Lucas. In a recent interview with It's Just Movies, the two friends talked about their recent documentary, George Lucas' effect on the film-making industry, and how "Star Wars" fandom has changed.

It's Just Movies: Before we get started, I wanted to say how refreshing it was to see "Star Wars" treated for its critical and cultural significance in "The People vs. George Lucas," instead of just fanboys and girls nerd raging.
Alexandre Philippe: Ultimately, we're talking about a unique phenomenon in pop culture, and I was really interested as a filmmaker, not as a fanboy, to explore and to deconstruct this. I wanted to understand why over the course of 30 years Star Wars became so conflicted. So we asked a lot of questions and it ended up being a three year journey to make this film.

IJM: Where did the idea to make "The People vs. George Lucas" come from?
AP: The seed of the idea was something I've had for about five years. In fact, the title came up first. Back in 2007, Robert and I were on a commercial shoot in Texas and we were talking about Star Wars every single day, and so one day I told him that I had an idea for a documentary called "The People vs. George Lucas" and he jumped on it. He said he wanted to be one of the producers. So Robert was the one who encouraged me to make it and here we are three years later.

IJM: So Robert, this is something you couldn't have said "no" to?
Robert Muratore:
No, of course not. I'm a huge fan and I feel like the films that Lucas made influenced my decision to go into filmmaking. Even though I haven't followed the expanded universe as much, the movies themselves have had such an impact on my life. And I started talking about them with Alexandre in Texas and we realized that even though we're not "uber-fans" – we don't follow the expanded universe necessarily – we're still amazing fans of the films. And the fact that we could maintain that discussion over that length of time just told us that it would be a good project to work on and that there must be other people out there who are still interested in the debate and in what was going on between the fans and Lucas.

IJM: How has George Lucas affected you personally and professionally as a filmmaker?
AP: Both in profound ways. Being a part of the Star Wars generation, I've come to terms with the fact that George will always be a father figure of sorts. I think that we wouldn't have seen the wave of filmmakers in their mid thirties and forties now, or the same filmmaking landscaping now, without George Lucas. I think he inspired so many of us, not just to make movies, but to do things. That's the greatest legacy of George Lucas, the inspiration, still to this day. It's everywhere. And this is where I like to be gently harsh with the fans, in the sense that I think sometimes we go a little too far in our criticism of George Lucas. We can't forget how much he's given us. And I think the world certainly wouldn't be the same without Star Wars and Indiana Jones. It would be missing a great deal of fun.

IJM: You interviewed 126 different directors, producers, filmmakers, and Star Wars "experts" (if I can call them that). How did you find these people? What were your criteria?
AP: A lot of had to do with research. Once you get going and start talking to people (we talked early on to people like Gary Kurtz and to Dale Pollock), they also have recommendations. They put you in touch with other people. People start talking. Obviously a project like this doesn't go under the radar. Ultimately I would say that we only interviewed 126 people because we could have been going on for the next 10 years. A project like this literally has no end. But I think there was a feeling — when we had about 630 hours of footage — that we had the material that we needed to tell the story. We ended up going to Japan at the last minute when we already had a rough cut of the film, but we decided that it was a perspective that we needed to add. There were a few pick-ups towards the end, but the story was pretty much in place then.

IJM: You also included a lot of contributions from the fans and opened up your website to submissions. How important was it for you to involve the fans in this project?
AP: Absolutely crucial. In fact, it was something that I talked to Robert about when we were building our website. It's something that I felt very strongly needed to be done. First of all because the film is about the relationship between George and the fans, but also because the fans have been so vocal and have appropriated Star Wars — they always talk about "my" Star Wars. So I thought it was really essential to give them a voice, no matter where they are, where they're from, or what type of equipment they have. Some of them only had webcams, and that's fine. So there's obviously a very eclectic nature to the film, but that's something that I really wanted to embrace stylistically and that is part of what the film is. And the fan footage ranges from puppets to claymation, 3-D animation, and even Star Wars grindhouse films. It was a lot of fun. My only regret was that we couldn't include more in the film, but we'll be including that in the DVD and Blu-Ray release.

IJM: I thought a noticed a lot of footage from "Star Wars: Uncut" as well.
AP: Casey Pugh, the creator of "Star Wars: Uncut," was just tremendously supportive. In fact, all of the "Star Wars: Uncut" contributors have really embraced this project. We actually talk about both films as being sister projects. I want to congratulate him on finishing a cut of it. There is going to be festival in the near feature of "The People vs. George Lucas" and "Star Wars: Uncut," and I think it's going to be a lot of fun.

IJM: Browsing through the most watched videos on YouTube, I couldn't help but notice that a large majority of them have to do with "Star Wars." How do you think the Internet has contributed to our relationship with George Lucas?
AP: Well the Internet of course gave rise to the trolls. So I think that whatever frustrations people had were multiplied. Like when you're driving you feel entitled to honk and yell, and when you're on the Internet you feel like your voice can be louder because you're really not accountable. So I think the anger just went over the top. I think on some level it's a little bit scary, but on another level you have to realize that it is the Internet after all and no matter how people say they hate George Lucas, there is still a tremendous amount of love and respect in the first place.
RM: There's also the flip-side, which gave people a voice to show their fan films. Everyone was actually able to start getting their own take on "Star Wars" and their own feelings on "Star Wars" out there, even in positive ways.
AP: Absolutely. You're seeing both the positive and the negative. What amazes me – if you've seen the 70-minute review of "Episode I" or the 90-minute review of "Episode II" – is that what movie, other than "Star Wars," could actually produce something like this more than 10 years after its release? And get millions of hits on YouTube? So people are still fascinated by this phenomenon and are going to continue to be fascinated by this phenomenon. At the end of the day, I think "Star Wars" has resonated with people in ways that no other movie has.

IJM: The film tries to keep a balanced perspective on the George Lucas phenomenon. You show both sides of the debate, much like a courtroom case. But when you were envisioning the final product, did you want it to come out on one side or the other?
AP: No, it was really important for me to keep it as balanced as possible. However, as you've seen in the film, we start with the love, and then we come full circle after examining the hate. That was really important because this is ultimately a love letter to George Lucas. It may be a twisted love letter to George Lucas, but that's how the fans feel. I really wanted to approach this with the respect and admiration and the love that I think we all have toward George. I was not interested in making a George Lucas bashing film — there's so much of that out there on the Internet. My intent was to look at the George Lucas bashing phenomenon and try to understand it.

IJM: Who do you think should see this film?
AP: At SXSW — where we had our world premier — a number of people came up to me and said, "I'm not a 'Star Wars' fan, I didn't really know much about 'Star Wars' or George Lucas, but I was really compelled from beginning to end and learned a great deal about him." So I think the film is for film buffs. It's for people who have an interest in culture as well. It goes far beyond "Star Wars" fandom. It's not a fan film. It truly is a documentary film. Ultimately I hope that it will be a lasting document to this unique, dynamic, and popular culture — something that we can look back on 30 or 40 years from now, and maybe be able to understand the impact of "Star Wars" just a little more.

(Editor's Note: The third and fifth photos in the piece are courtesy of dannychoo.com.)

. . .
Follow Kyla Drewette on Twitter at http://twitter.com/KylaDrewette.