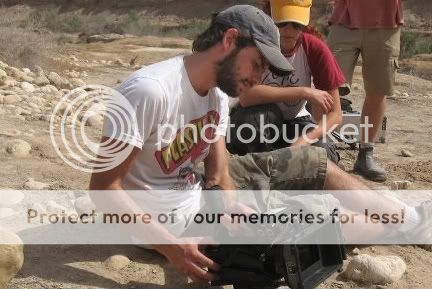 A film student at Sapir Academic College in Israel, Dan Sachar created "When It Will Be Silent" (which we reviewed here) as a sophomore project. Despite its small beginnings, the post-apocalyptic short has quickly garnered a lot of attention online and at film festivals around the world (it screened at the Sci-Fi London Film Festival on April 30).
In our exclusive interview, Sachar talks about his most recent project, "When It Will Be Silent," and shares details on his upcoming short film, "Overture."

It's Just Movies: "When It Will Be Silent" was created as part of a student project. How long have you been creating films? Was this your first time directing?
Dan Sachar: As a film buff, I have been shooting movies since I was a kid. I have directed a few other projects and short films (although I'm not sure if I can really call them that), but overall, it would be appropriate to say that "When It Will Be Silent" was my second short film as a director. The first was actually a comedy about a young filmmaker.

IJM: The opening shot features a carving of a heart that is suddenly covered in a strange liquid (at first I thought it was blood, then oil). What is this black liquid and what is its significance?
Sachar: I wanted to connect my characters in an ambiguous way to the location, to show that maybe once the bridge had been beautiful, once it had a river and grass beneath it. Or maybe when the couple was young, they had sculpted that heart, as a sign of their love. The oil is a symbol of the death of the earth – the earth is bleeding a human-made substance as visual hint that this was our fault.

IJM: The title of your latest project, "When It Will Be Silent," suggests a finality. Does this silence refer to the husband (as in the personal silence after death)? Or is the silence more widespread? Are we witnessing the death of the last man on Earth?
Sachar: In my mind, this couple was one of the last survivors. When I wrote the script I imagined how each and every couple would be conducting their own private and unique ceremony – their own farewell from each other, and from the world.

IJM: The gas mask is often a visual representation that human interference – pollution, global warming, nuclear war, etc. – has brought about the end of the world. Do you think we are on a path to self-destruction?
Sachar: Considering the environmental question, I'm positive that we are finally acknowledging the situation. We understand our mistakes as living beings on this planet, and we are on the right track to correcting it. I wish I could say the same about war. I'm not as optimistic about war, and that's not because of any recent events. The way I see it, war has always been, and unfortunately, war will always be.

IJM: "When It Will Be Silent" was filmed in the demilitarized area between Israel and Jordan. Does your film have any political undertones?
Sachar: When I first wrote the script, I didn't think I'd be able to find a location that would resemble what I wrote. After a brief search in Google Images, I found this amazing location, and realized that I would actually be able to shoot my film! But only after shooting did I find out that the bridge was bombed during the Six-Day war in 1967. This added a political undertone to the film, and I'm truly happy it does. I think the political statement of "When It Will Be Silent" is yelling for peace. The film demonstrates that it doesn't matter where you're from, or what your religion you are – hate always has its price. Additionally, the fact that the film has no dialogue helps to make it an international story. This story could happen in any country on Earth.

IJM: Can you tell me a bit about your next project, "Overture"?
Sachar: "Overture" (co-written by Avichai Mark) is planned to be my and the producer's (Guy Lahav, who also was the producer of "When It Will Be Silent") graduate film. Unless someone out there is willing to invest a few thousand dollars, it will also be an independent short film. The same amazing cast from "When It Will Be Silent" will play in this film as well (and this time the female character will be more then just a dead body).
From a visual point of view, it will be similar in style to "When It Will Be Silent." A cinematic language which I'm deeply influenced by is the great Russian director, Andrei Tarkovski, and his masterpiece sci-fi film, "Stalker."
The story in "Overture" is a bit abstract, but what I can say for the moment is that it's about "the end of one world, and a genesis of another." This time the film will be longer, but same as in "When It Will Be Silent," a lot of questions will still remain.
We plan to start principal shooting in October. We'll keep everyone updated on the "When It Will Be Silent" Facebook fan page, and through "Overture's" website at www.overture-film.com, which is still under construction at the moment.
. . .
Follow Kyla Drewette on Twitter at http://twitter.com/KylaDrewette.