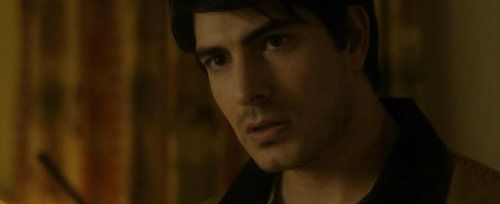 Movies like "Missing William" remind me how much I love movies. It doesn't matter which genre it is, but a well-written, thought-provoking film can strongly motivate me. If this trailer is any sign of what to expect, then I am expecting something rather wonderful.
"Missing William" stars Brandon Routh ("Superman Returns"), Courtney Ford ("Dexter") and Reid Scott. In the trailer, we are introduced to Abigail (Ford), an artist who is painting beautiful images from past memories, memories of her childhood and first love. We are presented with flashbacks of her past in stunning and colorful images and scenes, scenes that probably remind us of our own memories. She plays by the water with a boy, and whispers to him, "I love you James Anderson."
In the present, however, Abigail is married to William, and is understandably shocked when her childhood love — James Anderson — is back in town and we learn he is played by Brandon Routh.
It is not explained in the trailer, but James seems to treasure those childhood memories just as fondly as Abigail does, and perhaps still has strong feeling for her that seem to converge on romantic love and strong friendship. The strong feelings they have for each other are put to the test when William falls into a coma, and it seems when he wakes he has lost all his memories and feelings for his wife. Now James attempts to help Abigail find her own life again — possibly with him becoming a part of it.
I thought I would describe for you the trailer and plot for you myself, since the official description says so little and this trailer deserves so much. Here is the synopsis we are given: "Old love and new love collide when a tragic accident brings a woman's childhood sweetheart back into her life." But what we see in the trailer are some spectacular and tantalizing visuals – including picturesque landscapes and colorful dreamlike moments by the lakes. This is the way an artist sees life and memories and we are invited to witness it through her eyes.
I invite you to watch the trailer and see if you feel the tenderness this story brings, which compelled me to write this article.
Unfortunately, "Missing William" seems to be in movie limbo and no official wide release date is available. But I will keep you updated if this changes and where to watch the movies.
In the meantime, you can also check out the film's poster below:
. . .
Follow Josue Sanchez on Twitter at http://twitter.com/Josue_can.
And don't forget to "Like" It's Just Movies on Facebook at
http://www.facebook.com/itsjustmovies.