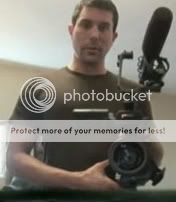 — by ALEXA MILAN —
Oren Peli's "Paranormal Activity" is the ultimate little movie that could. Shot in one week for $15,000, the horror film has gained nationwide distribution thanks to an ingenious viral marketing campaign and has already grossed more than $33 million.
Filmed with a handheld video camera, "Paranormal Activity" centers on young couple Katie (Katie Featherston) and Micah (Micah Sloat), who become disturbed by some sort of paranormal presence at night, a presence that may or may not be demonic. In an attempt to discover what's been haunting them, Katie and Micah set up a video camera to capture what happens in their room while they're asleep.

Many critics are calling this one of the scariest movies of all time, and the film's first trailer consisted mostly of a terrified audience's reaction to the film. This new trailer shows more footage of the actual film, and it definitely looks frightening.
I like the subtle, suspenseful approach of the handheld camera rather than in-your-face scares. I think the vulnerability of being asleep and not knowing what's going on around you is a great backdrop for a horror film, and I definitely can't wait to see this.
Follow Alexa Milan on Twitter at http://twitter.com/alexamilan.