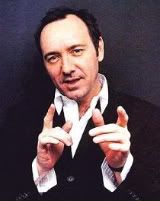 — by JASON EAKEN —
Kevin Spacey has two new movies coming out, and I want to be excited, I really do. But is there anybody who doesn't think Kevin Spacey has been off his game lately?
I know he's been focusing on theatre @ the Old Vic in London, but come on. He has ceased to be the powerful actor he once was. "American Beauty" was 10 years ago. And even if you thought he was da bomb in "K-Pax," the fact remains: things aren't the same.
And I'll tell you why. Directors. Look at his projects the last 10 years. Aside from "Superman Returns," he chooses projects with very inexperienced directors. And writers.
Come to think of it, David Fincher wasn't DAVID FINCHER when "Seven" came out. Same with Bryan Singer (of "The Usual Suspects"), Curtis Hanson (of "L.A. Confidential"), or Sam Mendes (of "American Beauty").
Why does he gravitate toward lesser-known directors? Does he have a passion for helping new voices get a wider audience? Or does he pick people who won't question his instincts and who allow him free reign over his characters? Or maybe the directors' inexperience translates into not challenging Spacey enough, not forcing him to get away from some of his actor tricks.
New stuff:
1. "Shrink" — It had a limited theatrical release and is also available on DVD. Spacey plays a shrink who, you guessed it, is having just as big a personal crisis as the patients he's paid to help. This is not a new story. But. The conceit is that he's a celebrity shrink, and from the trailer, it looks like the patients are given ample screen-time and the movie may also be about celebrity in some way. So … looks like a potentially good movie. Not ground-breaking, but a step in the right direction.
2. "The Men Who Stare at Goats" — It's been talked about on the site already. The early word is it's a one-trick pony that eventually just flatlines. I dig the cast — George Clooney, Jeff Bridges, Ewan McGregor, Spacey — but then, Spacey's been known to be in well-cast movies that misuse their talent. The trailer looks interesting, so I'll wait for a clearer critical consensus before throwing it under the bus.
Point is, I really want Spacey to make good movies again. He needs a good director, though. Someone who won't let him phone-in another "decent" performance and will push him to take chances with his character and break some new ground. There you go, free career advice.
Jason Eaken is on Twitter at http://twitter.com/EAKEN.