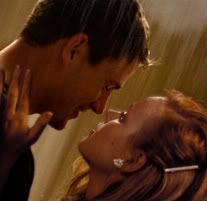 When it comes to romantic dramas, fans of the genre are used to some of the same names and faces. That's why it is no surprise the two of the most popular young actors — Channing Tatum and Rachel McAdams — are teaming up with director Michael Suscy (who did the award-winning HBO mini-series "Grey Gardens") to bring to you a tale of love lost and the hope of finding it again in "The Vow."
When Leo (Channing Tatum) and Paige (Rachel McAdams) find each other, they discover they have a love that is unlike any other they have ever felt before. With electricity between them, it isn't long before they move in together and get married. When a tragic car accident puts Paige in a coma, it is almost more than Leo can handle. When she awakens from her coma, he is shocked to learn that she has lost her memory and has no recollection of him. He must be patient because he is given hope that her memory should improve and return over time, but how can he help her remember who he is and her love that she has had for him before it is too late?
Despite being a fan of both Tatum's and McAdams' work and knowing they have had equally great performances in different movies, I must admit "The Vow" does appear to be a pretty stereotypical love story drama. The fact that they chose to put their previous hit movies in the trailer with the actors' names shows me that they are marketing more to the nostalgia of the genre than this movie's originality. Yes, Rachel McAdams was great in "The Notebook" and Channing Tatum did well in "Dear John," but that shouldn't be the primary reason you should want to see this movie. So many films just seem to be clones of previous movies that came out in years prior and I think that Screen Gems should be trying to focus on what is different about this film other than why it's like past hits.
So after you have seen this trailer what is your opinion? Do you think it will be just a sad love story or could there be more to it than that? What do you think of the movie from what you have seen and would you go see it in a theater? Leave a comment and let us know what you think. "The Vow" also stars Sam Neill, Scott Speedman, Jessica Lange and Lucas Bryant.
"The Vow" is not yet rated and is scheduled to hit theaters Feb. 10, 2012, just in time for Valentine's Day.
. . .
Follow Adam Poynter on Twitter at http://twitter.com/CCWGGuy.
And don't forget to "Like" It's Just Movies on Facebook at
http://www.facebook.com/itsjustmovies.