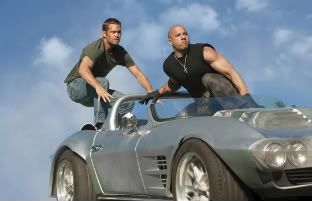 Need something to kick-start your summer movie experience? Get your summer up and running with "Fast 5," the fifth movie of "The Fast and The Furious" franchise.
John Lin is back in the director's chair and also returning is writer Chris Morgan, who has written the previous two movies. Lin has said, "There is more action in this movie than the last two combined. There is more car action, foot action and a race. It is all jam packed in there."
But who will be in this action-packed extravaganza? Dom (Vin Diesel), Brian (Paul Walker), Mia (Jordana Brewster) Roman (Tyrese Gibson)? The fact is, they all are in this one, along with Sung Kang (Han), Gal Gadot (Gisele Harabo), Matt Schulze (Vince) and Ludacris (Tej).
And this time Brian and Dom aren't against each other. They are on the same side, on the run and getting ready to plan a $100 million dollar heist. Because, as Dom says, "Running isn't freedom." The money will get them to a new place to build a new life. To get the team they need, they call all over the globe to assemble a team.
The action is kicked up as we watch our team carry out their plans. Not only are the police after them, but the people they steal from and a new wrench to the plans – FBI Agent Hobbs (Dwayne "The Rock" Johnson), who always gets his man. He knows his target and his goal, "We take them down as a team and we bring them back and above all else we don't ever, ever let them get in the cars."
Producer Neal Moritz has said that the four-minute fight scene where Dom and Hobbs meet and have a throw down is intense. "They strip down and go at it. They throw each other through walls, windows and just beat the hell out of each other."
So do our heroes go to jail? Do they make it to safety and live happily ever after?
Guess we'll have to check it out April 29 when it opens in theatres. Me? I'm checking it out in IMAX.
. . .
Follow Lynn Tackitt on Twitter at http://twitter.com/pvtgiggles.