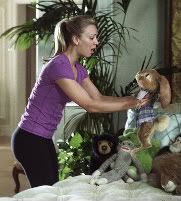 Major holidays are a huge time for movies, especially for anyone who has kids off from school for prolonged periods of time. These are usually when the family-friendly films start to roll into theaters. This Easter we have "Hop," directed by Tim Hill ("Alvin & the Chipmunks") and from the people who brought us "Despicable Me."
"Hop" is the tale of E.B. (Russell Brand), the son of the Easter bunny (Hugh Laurie). E.B. is set to take over the mantle as the new Easter bunny this year. Well, his plans of being a world-famous drummer don't go well with that plan, so he runs away to Hollywood where he runs into Fred O'Hare (James Marsden), a 30-something slacker who lacks the motivation to work or do anything productive with his life. Personalities clash and right when Fred thinks he is rid of E.B., the bunny conveniently reveals who he really is and uses it to his advantage. Will they each find what they need to grow up and handle some responsibility?
OK, so I always try to say this, but when I go into a kids or family film, I try to view it as the demographic that would actually be going to see this movie. It would be pretty easy to tear every kid-friendly movie apart for being too cheesy, silly or simple, but most of the time I am not the target audience for this movie; it's the families with small children. So having said that, onto the review …
"Hop" is a beautiful, magical film. The opening sequence is a sweet treat for the eyes that could rival the opening in "Willy Wonka and the Chocolate Factory." The animation really brings this underground factory on Easter Island to life with its machines and jelly bean waterfalls, a chocolate bunny and basket assembly line. The blending of animation with live action is great — the animation of all the fur and feathers on these animals is some of the best I've seen so far — so visually, it was like an animated neon painting come to life and dipped in chocolate.
The supporting cast of actors and voice-talent are top notch. The extended O'Hare family that is showing Fred some tough love includes the talented Kaley Cuoco, Gary Cole and Elizabeth Perkins. Hank Azaria plays multiple roles in this film, David Hasselhoff plays himself, and Chelsea Handler is the potential boss of Fred at a job he applies for. All the actors show diversity in their roles, I just wish they had a fuller script to work with because most of the human actors in this film are never really fleshed out and we learn very little about anyone in the family besides Fred.
The music was fun and upbeat. They played plenty of great songs to accompany E.B.'s drumming and, of course, what would a family movie be without a musical number in the middle of it? But I did enjoy humming along to many cool tunes through the movie.
Bottom line: Although the movie is beautiful, well animated and funny on a kids level, the script just lends little to no wit to anything substantial for adults and parents to take away from it. Your kids will love it, while you might find it a bit bland and mundane in the story department, but visually striking at certain points. It might have better animation than past films, but it has far less heart and quirk than movies like "Toy Story" or the "Shrek" films.
"Hop" cracks open in theaters today and is rated PG for mild rude humor.
. . .
Follow Adam Poynter on Twitter at http://twitter.com/CCWGGuy.
And don't forget to "Like" It's Just Movies on Facebook at
http://www.facebook.com/itsjustmovies.