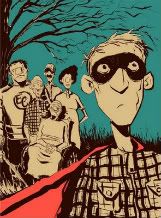 Sometimes, odd combinations can produce amazing results. For example Joe Wright, known for slower period pieces, put together "Hanna," probably the most exciting action film this year. That's why the news that John Dykstra, SFX wizard, has decided to take on an indie comic about life in rural Canada is ripe with possibility.
"Super Zero' will be based on the first volume of Jeff Lemire's award-winning graphic novel "Essex County." The comic follows the intertwining lives of a family living just outside of Windsor, Ontario. The story spans generations and captures the loneliness of living in isolated farmland. At the centre of this story is 10-year-old Lester. He's friendless and parentless, only finding solace in comics and playing at being a superhero.
Dykstra's own resume is much more action packed. He was one of the key special effects supervisors on "Star Wars: A New Hope," and has since worked on "Star Trek: The Movie," "Lifeforce," "Spider-Man," "Inglorious Basterds" and, most recently, "X-Men: First Class." If he brings his SFX prowess to "Super Zero" (and I certainly expect he will), this has the potential to be a unique blend of comic and movie.
. . .
Follow H.G. Watson on Twitter at http://twitter.com/HGWatson7.
And don't forget to "Like" It's Just Movies on Facebook at
http://www.facebook.com/itsjustmovies.