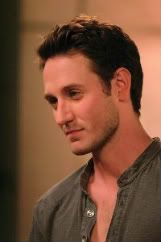 One more talented actor has been nabbed by Christopher Nolan's "The Dark Knight Rises" — Josh Stewart, who is best known for his role in "The Curious Case of Benjamin Button" and, most recently, on TV in "No Ordinary Family."
Next summer's "The Dark Knight Rises" already boasts a tremendous cast, with most of the usuals from the previous outings returning and a few new great ones added, like Anne Hathaway, Joseph Gordon-Levitt and Matthew Modine. What makes this new casting special? Well, we won't know if his role is important anytime soon with Nolan being his usual tight-lipped self about his newest production.
Personally, Josh Stewart's role in "No Ordinary Family" is what made me a fan. His acting there was as a troubled villain, forced to work for some people he didn't want to work for, and do things he didn't want to do. Watching him turn his life around and leave the dark side was very convincing, which leads me to believe no matter the size of this unknown role he has been cast in "The Dark Knight Rises," he will definitely be asset.
What do you think of yet another great addition to "The Dark Knight Rises?"
. . .
Follow Josue Sanchez on Twitter at http://twitter.com/Josue_can.
And don't forget to "Like" It's Just Movies on Facebook at
http://www.facebook.com/itsjustmovies.