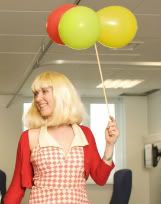 Most celebrity crushes never go beyond admiration from afar. You see them onscreen, swoon over their good looks and charm, and that's that. But in the Irish short film "Henry and Sunny," one optimistic young man's celebrity crush may just turn out to be his true love.
Written and directed by Fergal Rock, "Henry and Sunny" has played the film festival circuit in the United States and Europe and is now available to view online. The film was nominated for Best Director and Best Actress at Hollywood's Feel Good Film Festival and claimed the Best Cinematography award at Ireland's Underground Cinema Awards.
Henry (Paulo Braganca) is a clown, living in a time when clowns are the latest scapegoats for economic turmoil and civil unrest. He's in love with a glamorous soap opera star named Sunny Carmichael (Dorothy Cotter). He sends her love letters and sweet poems, hoping to convince her he's worthy of her love despite his status as a clown. And despite the odds, Sunny might be taking notice of her offbeat admirer.
First I have to preface this by saying I have a major phobia of clowns. Every time I see one I get the urge to scream and look away. So the fact that I was able to make it through this entire movie without running from my computer is a testament to its quality. Told in an old-fashioned style reminiscent of feel-good films of the 1930s like "City Lights," "Henry and Sunny" is a sweet, charming look at two seemingly mismatched people who could actually be perfect for each other.
Check out the complete short film below.
. . .
Follow Alexa Milan on Twitter at http://twitter.com/alexamilan.
And don't forget to "Like" It's Just Movies on Facebook at
http://www.facebook.com/itsjustmovies.