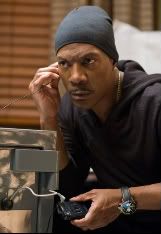 Heist movies are some of the most fun and creative films that make it mainstream; that's just how it's been for as long as Hollywood has made them. I find it fascinating to see what writers come up with when it comes to these types of films, so naturally I was super anxious for "Tower Heist." Not only is it a heist film, but it is a comedy, and it is a comedy starring some of the best in the biz. I went into this film with pretty high expectations. I wasn't entirely let down, but I wasn't entirely taken aback either.
Ben Stiller ("Meet The Parents," "Night At The Museum") plays the general manager of a high society resident tower, Josh Kovacs, and through a series of events plots revenge on one of the tenants. He teams up with Eddie Murphy ("Shrek," "Norbit") who is Slide, a neighborhood thief. Although Stiller and Murphy are killer headlines, this film is truly one that is pieced together by its ensemble pieces. The best part of "Tower Heist," for me, was the entourage of talent that framed every piece of film.
Joining Stiller and Murphy we have Matthew Broderick ("The Producers," "The Stepford Wives"), Casey Affleck ("Gone Baby Gone," "Oceans"), Michael Peña ("Crash," "The Lucky Ones"), Gabourey Sidibe ("Precious"), Judd Hirsch ("Independence Day," "Numb3rs"), Alan Alda ("M*A*S*H," "The Aviator") and Téa Leoni ("Deep Impact," "Ghost Town.") When you put all those names together, it's pretty hard to hold your expectations to a minimum. That is the biggest problem with any ensemble cast is that it rarely holds up to the pedestal we put them on. Separately, the actors all bring something to the table, but the majority of the time, when you mash them all up, what you get is a rushed together fight to show off each talent individually.
Plot wise, "Tower Heist" was very predictable, and in the end not as creative as I had hoped for. That is not to say that there was no creativity, because there was, just not in the way I had hoped for a caper feature. There were, however, very funny moments and it was quite refreshing to see that the directors let the laughs come out of every character's mouth, not just Stiller's or Murphy's. There wasn't one single stand-out performance, everybody worked together. As corny as that comes off, it's true.
One of the disappointments for me was in the soundtrack. I honestly do not remember a single song from the film, be it score or lyrical. Music needs to meld into movies for me, it is very important in my world.
I would recommend "Tower Heist" as a fun day out movie, not one to rush out to on opening day. It is rated PG-13 for language and sexual content, but I think it's suitable for families with older kids. The problem I foresee in this film's opening weekend is that as far as family films go, we have "Puss In Boots" in theaters, but other than that, I can almost see "Tower Heist" being very successful in it's opening, based on star factor alone.
The Jess-O-Meter will be borrowing a quote from one of Hollywood's finest, The King Of cool, "If I hadn't made it as an actor, I might have wound up a hood."
. . .
Follow Jessika Owens on Twitter at http://twitter.com/jessika.
And don't forget to "Like" It's Just Movies on Facebook at
http://www.facebook.com/itsjustmovies.