— by JASON EAKEN —
This was a good decade for the movies. Not quite as brilliant as the '90s or the '70s, but definitely better than the '80s, this decade brought with it droves of special effects driven movies, popcorn entertainments in numbers we've never seen before, and a new era of both gross-out comedies and bleak, serious dramas. The Iraq War was its own sub-genre of film, but the movies by-and-large failed to connect in any meaningful way, instead feeling like simple sermons from one side or the other.
Many new directors made their voices heard (a few of them made my list). Who had heard of Brad Bird, Christopher Nolan, Guillermo Del Toro, Paul Greengrass, Judd Apatow, Alfonso Cuaron, Edgar Wright, Sofia Coppola, Todd Field, Jason Reitman or Alejandro Gonzalez Inarritu? And what about that guy Peter Jackson? He'd made a film or two, but boy was he a surprise! As well, many familiar faces cemented themselves as auteurs, and some living legends continued to make films at the top of their game.
I've just started making a list of actors who have really hit it big this decade, but that list is overwhelming, so I'm going to by-pass it entirely. There are dozens, if not a hundred up-and-coming stars or actors who have really hit their stride this decade. If you don't believe me, start with gross-out comedies, move into indies and then big budget actors and when your brain can't take it anymore, send in your list.
List? Yes, list, let's get to the list.
10. "The Aviator"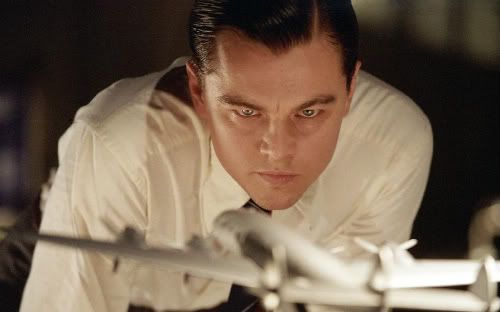 Martin Scorsese remade "Citizen Kane" and didn't bother to tell anyone. A very different picture than most people are used to seeing from him, it brings with it the best performance of Leonardo DiCaprio's career as Howard Hughes, airplanes and obsession. His portrayal of a man disintegrating from the outside in is haunting, even as those around him, particularly Katherine Hepburn (Cate Blanchett) try to pull him back into the world.
The movie is about a man corrupted by himself, not others. I think it might be Scorsese's best film. It is a brilliant portrait of a man, pre-50's Hollywood, and obsession. A great bio-pic in the way it focuses on a particular segment of Hughes' life and allows it to speak for the rest of it.
. . .
9. "Memento"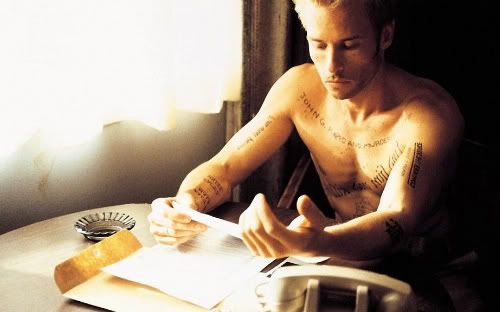 This is the film that launched Christopher Nolan into view as one of the most original writer/directors of the decade, and it remains his masterpiece. The ever-under-rated Guy Pearce stars as Leonard, a man with no short-term memory who uses tattoos and notes to try to track down his wife's killer.
The film unfolds backwards, with the ending first, so that we are completely in Leonard's shoes. It's much more difficult to interpret the behavior of someone you meet when you can't remember your first impression, when you can't tell how long or how well you know someone. The movie isn't a gimmick, though. The movie is about what we do with the truth when we find it.
. . .
8. "High Fidelity"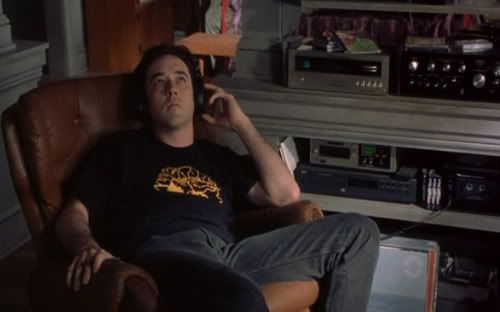 John Cusack's best movie hands down. This movie is the precursor to quirky romantic comedies that came later in the decade, but it's different. It's truer. Cusack's Rob has been dumped and as he traces back through his relationships, something emerges he hadn't quite noticed – he's kindof jerk.
But what a loveable one he is, and therein lies the movie's biggest charm. It gets relationships so well and is so smart about them. My favorite is when he details the top 5 things he loved about his girlfriend. They're small things, but they're the most important. Also, the movie introduced us to Jack Black. Or maybe it unleashed him.
. . .
7. "There Will Be Blood"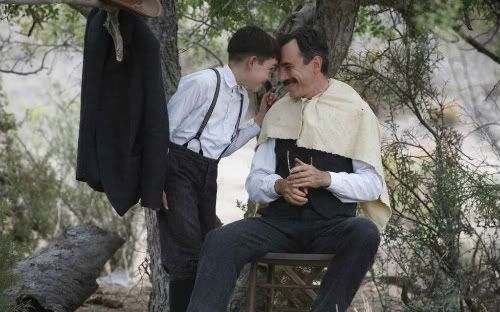 Paul Thomas Anderson's intimate epic is making nearly everyone's Decade List, and for good reason. This is one of the most unique films ever made. The way Anderson moves his camera, Daniel Day-Lewis' career-defining portrayal of a man selling out his own soul bit by bit, Johnny Greenwood's spare, curious score. This movie seems like it was made in its own universe. Anderson tells his stories his way, and the climax of this film left some angry, some dazzled, and everyone speechless.
Movies are rarely made like this, is the thing. This is a film and a performance that will be talked about for a long, long time.
. . .
6. "Adaptation"
A film that could have been called "A Funny Thing Happened on the Way to the Typewriter," Charlie Kaufman created a story about himself creating the story he wrote out of a story he was writing that he couldn't figure out how to write it so he wrote himself into it, which is what he did and what the film is. Everyone with me so far? This is the best film ever made about the creative process and the struggle to know what to write and how to write and why to write and getting over yourself and just writing and maybe even, whether he knew it or not, how Charlie Kaufman's fake-in-real-life, real-in-fake-life brother Donald was the best thing that ever happened to his movie.
Listen, it'll be better if you just see the movie. It also has Meryl Streep and an Oscar-winning performance from Chris Cooper, and Nicholas Cage playing two roles. The way all of these people are searching for things and are lonely and collide, it's just wonderful to see.
Click here to read The Decade's Top 10 Films Part II — 5 to 1.
. . .
Follow Jason Eaken on Twitter at http://twitter.com/EAKEN.